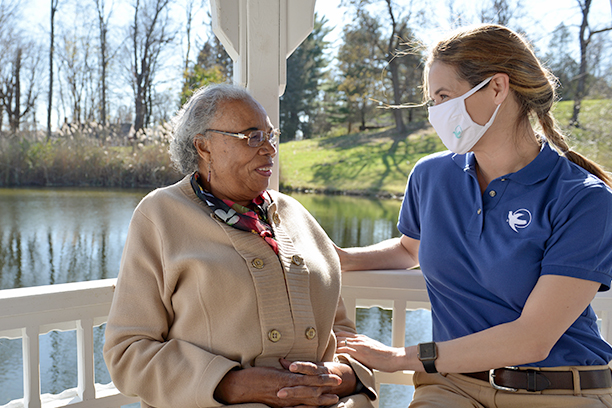 Alzheimer's & Dementia Care in San Fernando Valley | Visiting Angels
Alzheimer's & Dementia Care in the San Fernando Valley
Alzheimer's and dementia affect millions of Americans every year, making every day a challenge for them and their family members. One of the most difficult things about living with Alzheimer's and dementia is knowing that there is no cure for it, and symptoms can only be treated on a case-by-case basis. At Visiting Angels, we provide Alzheimer's and dementia care in the San Fernando Valley to assist people as they work through the daily challenges of living with these conditions.
Our caregivers have experience caring for a variety of clients and managing all of their unique needs, ensuring that they are able to live comfortably every day. We're dedicated to working with you and your family to create a system of care that best suits your needs and makes treatment as stress-free as possible.
Visiting Angels is a network of franchised home care agencies that are committed to providing comprehensive home care and Alzheimer's and dementia care throughout the United States. With over 20 years of experience caring for people, you can have peace of mind knowing that you or your loved one are in capable hands.
If you or a loved one needs Alzheimer's and dementia care in the San Fernando Valley, call our team at Visiting Angels today.
What to Expect from Alzheimer's/Dementia Progression
Alzheimer's and dementia are complex conditions, and part of that complexity comes from their degenerative nature. This means the symptoms of Alzheimer's and dementia get much worse over time, and although everyone experiences them differently, they can reach a point where things like memory loss and other cognitive dysfunctions become severe.
It's important to understand that Alzheimer's and dementia are not exactly identical, although the two are often spoken of interchangeably. Alzheimer's is a specific kind of brain disease caused by brain changes following cell damage. Dementia is not its own disease but is instead a term used to classify a group of symptoms associated with memory loss and a decline in other thinking skills. So the distinction is that dementia is the primary symptom of Alzheimer's disease, but it can also occur without it.
Alzheimer's and dementia are not easy things to manage, and as they worsen, caring for yourself or a loved one will become increasingly more difficult to accomplish alone.
How Alzeheimer's/Dementia Affects Daily Life
Alzheimer's and dementia can affect people in various ways, but there are a few primary symptoms that can make daily life difficult. Alzheimer's and dementia can affect a wide range of mental functions, and it's often marked by progressive memory loss. This can start with difficulty remembering certain names or faces and turn into someone forgetting another person exists entirely. Family life can become particularly difficult when a loved one with dementia begins to forget about other life-long family members.
Such widespread memory loss can also make completing certain regular tasks much more difficult. The cognitive degeneration associated with Alzheimer's and dementia can leave patients unable to do simple math, which can turn things like money management into an arduous process. General self-care also can also become difficult, as a person with Alzheimer's or dementia may forget to do things like brush their teeth or properly wash themselves.
Benefits of Alzheimer's/Dementia Care
Managing Alzheimer's and dementia can be a delicate task, as they can't be taken care of in the same way as other conditions. There are no surgeries to get rid of Alzheimer's or dementia, and there aren't any medications that can completely cure them either. In most cases, patients will only be able to take medications to treat symptoms and employ whatever self-care they can to make everyday life less difficult.
While it's possible to manage Alzheimer's and dementia without the help of an in-home care agency, the support provided by Visiting Angels has a variety of benefits. Alzheimer's and dementia can leave people very vulnerable, that's why we're committed to providing comprehensive care that makes you feel happy and healthy. No one should have to go through Alzheimer's and dementia alone, and our Alzheimer's/dementia care ensures that you always have someone to help you through life's daily challenges.
With Visiting Angels' in-home care, you receive the assistance that you need from the comfort of your own home. Our in-home care experts are trained to help you around the house in any way that they can, so you can get the rest you need when managing such complex conditions. You deserve to live comfortably through your Alzheimer's and dementia treatment, and our caregivers are prepared to work with you and your family to provide the best possible service.
Our Alzeheimer's/Dementia Care Services
At Visiting Angels, your health is our top priority. That's why our Alzheimer's/dementia care services are the most complete they can be, so you don't have to risk any harm or unnecessary injury while living with such difficult afflictions. From help with medications to food preparation, our caregivers are here to help you every step of the way.
Below are some of the most common Alzheimer's/dementia care services we provide in the San Fernando Valley.
Housekeeping
Alzheimer's and dementia can leave people feeling very disoriented and unable to concentrate, making various housekeeping tasks difficult to fully complete. The symptoms of Alzheimer's and dementia can also progress to the point where combining muscle movements might become difficult, which can make certain housekeeping tasks much more dangerous than they might have been before. Your house is where you should feel most secure, and that's why our housekeeping services are here to make sure your living space is in the best shape possible.
Our housekeeping services include:
Daily chores like vacuuming, sweeping, dusting, watering plants, etc.
Cleaning and disinfecting toilets, sinks, showers, and countertops
Emptying garbage
Dishes
Laundry
Medication Reminders
While there aren't any ways to cure Alzheimer's or dementia, there are medications that can manage symptoms and make everyday life a little easier. Unfortunately, the forgetfulness associated with both conditions can make remembering to take those medications very difficult, and missed doses can lead to much more severe symptoms. We help you prevent any hindrances in your Alzheimer's/dementia care by providing medication reminders, so you always stay on track with your treatment.
Transportation
Operating a vehicle can be very dangerous for those with Alzheimer's or dementia, as they may forget the rules of the road or how to drive properly. Attempting to drive under the effects of Alzheimer's or dementia could put you or other motorists at risk, so it's best to leave the responsibilities of driving up to someone else. Visiting Angels' care specialists are prepared to drive you wherever you may need to go, from prescription pick-ups, doctor's appointments, general errands, and many more.
Personal Care
Every aspect of your health is important to us, and that includes personal hygiene and physical maintenance. Our caregivers are prepared to help you with daily tasks such as showering, grooming, getting dressed, and using the bathroom. Physical and mental exercise can also be important to Alzheimer's and dementia care, and our caregivers can arrange light activities as necessary.
Food Preparation
In addition to our transportation and housekeeping services, Visiting Angels can prepare food to ensure that you're properly fed during your Alzheimer's/dementia care. Some Alzheimer's/dementia patients may forget to eat or not be able to feed themselves due to cognitive degeneration, but getting the right nutrients each day can be an important part of making sure symptoms don't progress too quickly. Our professional caregivers can work with you to plan, make, and, if necessary, feed you well-balanced meals that fit your specific needs.
Companionship
Having Alzheimer's and dementia can be a lonely experience, as some people will likely begin to forget about other people they've known throughout their lives. A lack of social interaction can also lead to worsened symptoms over time, so it's vital that patients receive a consistent amount of person-to-person interaction each day. This is where Visiting Angels can step in to provide companionship as you work through the effects of Alzheimer's and dementia. Whether you want someone to read with, play games, or just have someone to talk to, we're here to make Alzheimer's and dementia as manageable as possible.
How Long is Alzheimer's/Dementia Care?
The needs of one person with Alzheimer's/dementia are hardly ever the same as another person, meaning that not everyone will need the same level of care. Visiting Angels provides adaptive care that fits your needs, no matter how big or small. While some people may need constant care, we also provide short-term care. Some Alzheimer's/dementia patients may have additional help from family members, or medications could see a marked improvement, that's why Visiting Angels maintains the flexibility needed for your unique Alzheimer's/dementia experience.
Areas We Serve
We provide Alzheimer's/dementia care in the San Fernando Valley, which includes the following locations:
Shadow Hills, CA
Reseda, CA
Van Nuys, CA
North Hollywood, CA
Valley Village, CA
Tarzana, CA
Sherman Oaks, CA
Valley Glen, CA
Lake Balboa, CA
Sherman Village, CA
Studio City, CA
Chatsworth, CA
Northridge, CA
Sherwood Forest, CA
Porter Ranch, CA
North Hills, CA
Sepulveda, CA
Granada Hills, CA
Sunland, CA
Why Choose Visiting Angels
Visiting Angels has been a trusted name in-home care for over 20 years. We provide specialized care built around your schedule, treatments, personal preferences, and health needs. Our professional and experienced caregivers prioritize your health, safety, and comfort over everything else in order to make your treatment as seamless as possible. When you trust Visiting Angels to care for you or a family member, you get the support of people who are dedicated to your well-being.
To talk to our team about Alzheimer's/dementia care in the San Fernando Valley, CA, contact us today. We look forward to helping you in any way we can.
Serving Reseda, Granada Hills, Porter Ranch, Sherman Oaks, North Hollywood and throughout the San Fernando Valley area
Visiting Angels SAN FERNANDO VALLEY
17750 Sherman Way #310
Reseda, CA 91335
Phone: 818-206-8121
Fax: 818-742-6246
HCO #194700201