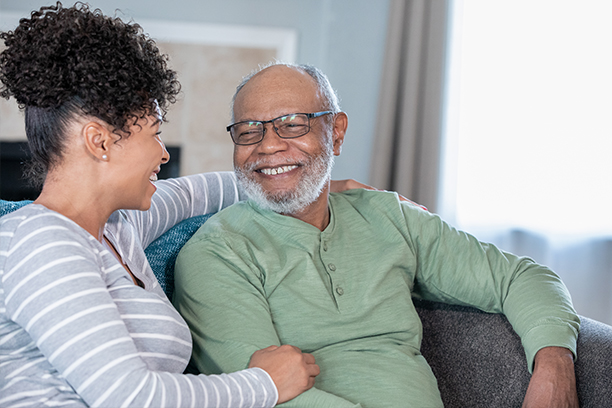 VA Care San Fernando Valley | Visiting Angels
VA Care San Fernando Valley
Military service comes with many sacrifices, both for those who have served and their families. Many Veterans return from service requiring an advanced level of care compared to before they left, while other elderly veterans require care due to aging or injuries sustained during their service. Fortunately, there are various resources available to all Veterans through the VA. Surviving Veteran spouses are also eligible for care due to their spouse's military service, ensuring they remain protected after their loved one has passed.
Visiting Angels offers VA care in the San Fernando Valley to Veterans and their spouses who need an extra pair of hands to help them through each day. Our caregivers have experience caring for many clients with unique needs, ensuring they're able to live a safe and comfortable life in their own homes. We're committed to working with you and your family to create a care plan that works for you, delivered in the environment you're most comfortable with.
If you're a Veteran or the surviving spouse of a Veteran, and you require home care services due to an illness, disability, or other persistent hindrance, call Visiting Angels to learn more about our VA care services in the San Fernando Valley.
U.S. Armed Forces Pension and Survivors Pension Benefit Program
As a Veteran of the U.S. Armed Forces, you may qualify for a special disability pension benefit of home care at no cost to you. Visiting Angels participates in this program, and if you qualify, you can receive quality home care services at a discounted rate. We understand the sacrifice and bravery it takes to serve in the military, and our compassionate caregivers are proud to deliver care that respects your strength and commitment to your country.
Visiting Angels specifically help with Aid and Attendance and Respite Care. Contact us today to learn more about these benefits.
Qualifications for VA Care
The primary qualification for VA care and the eligibility for the benefits program is at least 90 days of service in the U.S. military. Other requirements may apply, so check with California's Department of Veterans' Affairs office to determine if you qualify. Information can also be found at www.va.gov under "Disability Pension."
Benefits of VA Care
VA care covered by the pension benefit program allows Veterans and surviving spouses to receive a specific amount of home care hours free of charge each month. These hours are allotted based on a Veteran's specific home situation, and the totals are as follows:
60 hours of covered care per month for qualified Veterans with a spouse

50 hours of covered care per month for qualified single Veterans

30 hours of covered care per month for surviving Veteran spouses
In addition to these covered hours of care, there are additional VA care benefits for those who qualify. These benefits include:
A Veteran or Veteran's widow receiving service-related compensation may be able to receive an increase if they are certified as housebound and in need of personal care.

Hearing aids and incontinence supplies for individuals approved for housebound aid and assistance.

Additional benefits for Veterans who served "in country," Vietnam or the Gulf War, and for POWs.
With our in-home VA care, you receive the support you need from the comfort of your own home. Our experienced in-home caregivers are trained to help you throughout the house, so you only have to worry about your health and comfort. After all of the time you've put into serving this country, you deserve all the time you need to rest and recover from whatever ails you.
Our VA Care Services
Military service can leave some people with disabilities due to combat or exposure to harmful materials such as persistent amounts of smoke; that's why we cater our care towards the needs of every Veteran. Whether you suffer from a physical or mental disability or an illness, you can rely on our caregivers to deliver meaningful care. We're here to provide as much help as you need so you never have to struggle through any condition alone.
At Visiting Angels, our mission is to secure your health and comfort every day. That's why we take whatever measures necessary to provide complete VA care services, so the only thing you have to worry about is recovering from or managing your condition. From companionship to personal care, our expert caregivers are here to help.
Below are some of the most common VA care services we provide in the San Fernando Valley.
Housekeeping
Some conditions can make it difficult to maintain a home, whether due to physical disability or frequent feelings of fatigue. It's important to have a functional space to live in every day. That's why Visiting Angels provides comprehensive housekeeping services. Our caregivers are here to help with all of your daily chores, so you don't have to strain yourself and risk any injury.
Our housekeeping services include:
Vacuuming, sweeping, dusting, watering plants, etc.

Dishes

Emptying garbage

Cleaning out the fridge

Cleaning and disinfecting toilets, showers, sinks, and countertops

Laundry
Medication Reminders
Many Veterans have to rely on medication to help with illnesses or physical conditions. This medication can be highly important, so we provide medication reminders to help you maintain your schedule.
Transportation
If your health has made it, so you are unable to drive, it is best to have someone else handle your transportation needs. Attempting to drive while impaired in any way can be hazardous for you and others on the road and may introduce complications to any recovery progress you have made. That's why our VA care experts provide transportation services to take you wherever you need to go. Visiting Angels will bring you to any medical appointments, prescription pick-ups, errands, and more.
Personal Care
Every aspect of your health is important to us, including general hygiene and physical maintenance. Our caregivers are prepared to assist you with various personal care tasks, so you can be at your best at all times. These services include showering, grooming, getting dressed, and using the bathroom.
Food Preparation
Along with our personal care services, our VA care includes food preparation, so you can get healthy meals every day. Some individuals may require special meals based on their condition, or they may need a certain amount of vitamins and minerals each day just to stay generally healthy. Our caregivers can work with you to plan, make, and potentially feed you well-balanced meals to meet all of your dietary needs.
Companionship
For single Veterans or surviving spouses of Veterans, everyday life can be incredibly isolating. This can be exacerbated further by a condition that requires you to stay in your house for extended periods of time, especially if there is no family nearby to keep you company. Our VA care includes companionship services to prevent you from feeling lonely. Whether you want to watch television, go on a walk, or just have someone to talk to, we're here to make life as enjoyable as possible.
How Long is VA Care?
While it is common for some people to require long-term care, Visiting Angels also provides short-term care to fit every situation. Our caregivers can provide total care while you undergo chemotherapy treatments, for example, or we can check in every few days to ensure you're comfortable in your current living situation. No matter the severity of your situation, Visiting Angels provides holistic, adaptable, and dependable care.
Areas We Serve
We provide VA care in the San Fernando Valley, which includes the following locations:
North Hollywood, CA

Reseda, CA

Van Nuys, CA

North Hollywood, CA

Valley Village, CA

Tarzana, CA

Sherman Oaks, CA

Valley Glen, CA

Lake Balboa, CA

Sherman Village, CA

Studio City, CA

Chatsworth, CA

Northridge, CA

Sherwood Forest, CA

Porter Ranch, CA

North Hills, CA

Sepulveda, CA

Granada Hills, CA

Sunland, CA
Why Choose Visiting Angels
Visiting Angels has been a reliable name in home care for over twenty years. We provide specialized care that's customized to fit any schedule, surgery, personal preferences, and health needs. Our skilled and experienced caregivers put your health, safety, and comfort at the forefront of everything they do to ensure you can live every day without issues. When you trust us to care for you or a family member, you get the support and companionship of people committed to your well-being.
To talk to our team about VA care in the San Fernando Valley, contact us today. We look forward to helping you in whatever way we can.
Serving Reseda, Granada Hills, Porter Ranch, Sherman Oaks, North Hollywood and throughout the San Fernando Valley area
Visiting Angels
RESEDA, CA
17750 Sherman Way #310
Reseda, CA 91335
Phone: 818-206-8121
Fax: 818-742-6246
HCO #194700201