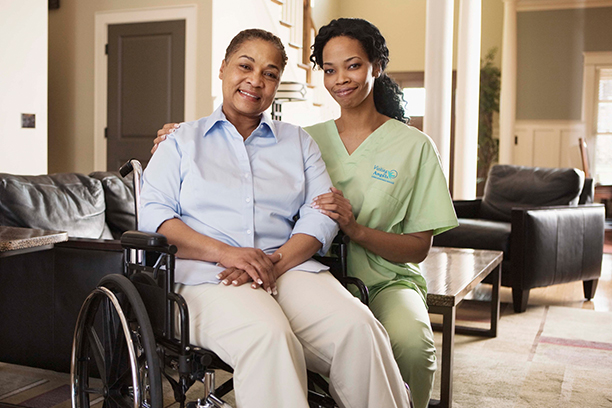 Post-Op Care in San Fernando Valley
The days following any surgery can be difficult and even painful. Recovering by yourself can be lonely and even dangerous. Visiting Angels provides post-op care in the San Fernando Valley to assist surgery patients after their procedure. Our caregivers have compassion for caring for clients after a number of different surgeries, ensuring there are no complications and that you're healing properly. We work with you and your family to provide holistic and compassionate post-operative care at home, at a rehab facility or in a nursing home.
Visiting Angels is a network of home care franchised agencies committed to providing compassionate home care and post-operative care throughout the United States. With around 24 years of caring for people, you can have peace knowing you or your loved one is in good hands.
If you don't want to face the post-operative healing process alone, call Visiting Angels to learn more about our post-op care in the San Fernando Valley.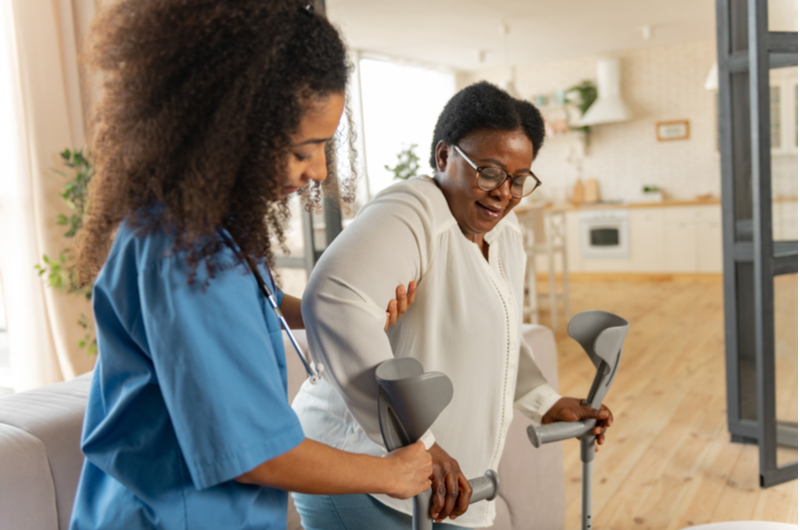 How to Know if You Need Post-Op Care in Reseda
If you're wondering whether you'll need post-op care following your surgical procedure, there are several questions you can ask your doctor leading up to your procedure. These include the following:
How long is my recovery time expected to be?

Will there be any follow-up therapy required during recovery, and when would it need to begin?

What are some specific actions or activities that I should or should not do following surgery?

Will I need to rent or purchase any specific medical equipment, like a walker, wheelchair, or any other assistive or adaptive tools to use during my recovery?
Post-op care is right for you if any or all of your answers to the above questions are as follows:
Recovery is expected to be long

Therapy is necessary following surgery

Your doctor advised you to avoid many mundane, but necessary tasks

You'll need a walk or wheelchair to move around
Our post-op care includes help for completing the tasks you can't do, helping with your therapy exercises, and ensuring your overall safety as you move around in and out of your house or nursing home.
Benefits of Post-Op Care
Surgery may be on an elective basis, as part of a preventative health plan, or in emergency situations, to save the life of someone having an acute health crisis or suffering from a serious injury. Regardless of the reason, in most cases, the days following any surgical procedure require more caution.
While it's possible to make a full recovery after surgery without post-op care from a home care agency, there are many benefits to seeking support. When you're at your weakest, Visiting Angels provides the care you need to stay healthy, happy, and safe. Instead of recovering alone and pushing the boundaries of what you should and shouldn't do during recovery, post-op care ensures you always have a caregiver nearby to help.
With post-op care, you stay in the comfort of your own house or nursing home while avoiding unnecessary injuries and surgical wound infection, among other risks of recovering alone. While the help of friends or family is better than no help at all, our post-op care professionals know how to provide the proper care to ensure you have a full, comfortable recovery.
Types of Post-Op Care
Nearly all operations involve recovery and can benefit from post-operative care. This could be as short as a few hours after your procedure, observing your health to ensure there were no complications or as long as several weeks. We have experience providing post-op care for a wide variety of surgeries, especially the following:
Plastic Surgery

Cancer Care
Our Post-Operative Care Services
At Visiting Angels, we ensure our post-op care is all-encompassing so you can rest and focus solely on your health and recovery. Whether you need help keeping your house clean, making dinner, or getting out of the house, our dedicated caregivers are here to help with whatever you need.
Below we outline some of the most common post-op care services we offer in the San Fernando Valley.
Housekeeping
Keeping your home clean can be difficult during post-surgery recovery. With limited mobility, it's likely hard for you to bend down, reach high areas, and move around for long periods of time. Our post-op care ensures you enjoy a nice, clean home while you recover.
Our housekeeping services include the following:
Daily chores like dusting, vacuuming, sweeping, watering plants, etc.

Cleaning and disinfecting showers, toilets, and sinks

Laundry

Emptying garbage

Dishes

Cleaning out the fridge
Medication Reminders
Surgery is often accompanied by pain medication in addition to any regular medications. Taking your medicine is essential to proper healing and recovery. Our post-op care includes assistance with reminders for taking the right drugs and the right dosage, monitoring side effects, recording medication, picking up prescriptions, and more.
Transportation
If you aren't advised to drive after surgery, it's likely a painful endeavor while you're healing. Additionally, driving while recovering from surgery can be dangerous for you and those on the road beside you. At Visiting Angels, our post-op care includes transportation. We'll drive you to any medical appointments, grocery shopping, prescription pick-up, social events, and more.
Personal Care
While keeping incision sites clean is important, personal hygiene is also key to overall health and recovery. If you struggle to move around after surgery, our post-op care includes personal care services such as showers, grooming (hair care, shaving, brushing teeth, etc.), getting dressed, and using the bathroom.
Meal Preparation
In addition to keeping the kitchen clean and assisting with transportation to the grocery store, our post-op care also includes meal preparation. When you aren't feeling well, it can be easy not to prioritize your diet, but getting the right nutrients is essential to a fast recovery time. Our caregivers can work with any diet restrictions when they plan, make, and potentially feed you well-balanced meals.
Companionship
Recovery after surgery often means staying in your house for a long period of time. This can be a lonely experience, especially if you don't have family members and friends that live nearby. Our post-op care also includes companionship, so you're not only healthy but happy. Whether you want to talk, read books, play games, watch television, or do another activity, we're here to spend time with you while you recover.
How Long is Post-Operative Care?
Post-operative care lasts as long as you need assistance through recovery. Some surgeries are more invasive than others with longer recovery times. Whether you had a rhinoplasty and need support for one to two weeks or you had orthopedic surgery and need support for one to two months, our post-op care is here for you. No matter how long or short you need professional care, Visiting Angels has compassionate caregivers who are ready to help.
Areas We Serve
We provide post-op care in the San Fernando Valley, which includes the following locations:
Shadow Hills, CA

Reseda, CA

Van Nuys, CA

North Hollywood, CA

Valley Village, CA

Tarzana, CA

Sherman Oaks, CA

Valley Glen, CA

Lake Balboa, CA

Sherman Village, CA

Studio City, CA

Chatsworth, CA

Northridge, CA

Sherwood Forest, CA

Porter Ranch, CA

North Hills, CA

Sepulveda, CA

Granada Hills, CA

Sunland, CA
Why Choose Visiting Angels
Visiting Angels has been a trusted provider of home care since 1998. We provide specialized care, built around your schedule, surgery, preferences, and health needs. Our trained and experienced caregivers put your safety, health, and comfort above everything else with a desire to connect on a companionable level. When you trust Visiting Angels to care for you or a family member after surgery, you'll have a smooth, stress-free recovery.
To talk to our team about post-op care in the San Fernando Valley, CA, contact us today. We look forward to helping you get back on your feet.
Serving Reseda, Granada Hills, Porter Ranch, Sherman Oaks, North Hollywood and throughout the San Fernando Valley area
Visiting Angels
RESEDA, CA
17750 Sherman Way #310
Reseda, CA 91335
Phone: 818-206-8121
Fax: 818-742-6246
HCO #194700201