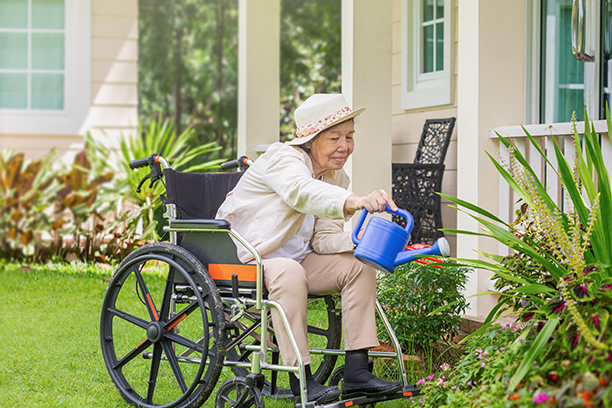 Post Operation In Home Care Services in San Fernando Valley
Countless people undergo surgery every day for thousands of different reasons. Surgery might be performed for anything from an elective basis, as part of a preventative health plan, or in emergency situations, to save the life of someone having an acute health crisis or suffering from a serious injury. And regardless of the reason, in most cases, the days following any surgical procedure may require a little more caution for any recovering patient requiring post operative care.
The Visiting Angels service can work with you or your family to make sure that a compassionate and skilled caregiver will be present when you need them to provide post operative care at home or post operative nursing care at a nursing or rehab facility.
As plan for a surgery you may be wondering "What Questions Do I need to ask my doctor?" or "What are common operations that need PostOp Care?" Let us be a resource and help you understand more about Post Operative care and what your options look like to have care in your home after surgery.
What is post operative care?
Simply put, this term refers to the recommended care for a patient who is recovering from surgery. This will be unique to each patient, depending on the type of surgery they had and their general health both before and after surgery. The intentions of a post operative care plan are to avoid developing complications and promote healing in the time after surgery to improve the patient's overall health.
What Questions Do I Need To Ask My Doctor at Post Op Care?

When you are planning to have surgery that may require a period of recovery time beyond your immediate hospital post operative care, it's important to get a clear picture of what you need to expect in the days or weeks to come.
Useful questions for your doctor prior to surgery:
How long is my recovery period expected to be?

Will there be any follow up therapy required during recovery and when would it need to begin?

What are some specific actions or activities that I should or should not do following surgery?

Will I need to rent or purchase any specific medical equipment, like a walker, wheelchair or any other assistive or

adaptive

tools to use during my recovery?
What Are Common Operations That Need PostOp Care?
Really, almost all operations require some degree of post operative care, even if it's as a brief as a few hours of observation. Any operation that will affect your mobility, like a hip replacement, will be much easier if you have a reliable caretaker. It can also be difficult to judge before your surgery how much post operative care will be best for you, but this can be more accurately assessed once your procedure has been performed.
The Visiting Angels service is located in Reseda, California, serving clients there and in the surrounding cities of Reseda, North Hollywood, West San Fernando Valley, Tarzana, Sherman Oaks, and Van Nuys. Contact us today to schedule an appointment regarding the post operative care that we can provide to you or your loved one.
Serving Reseda, Granada Hills, Porter Ranch, Sherman Oaks, North Hollywood and throughout the San Fernando Valley area
Visiting Angels SAN FERNANDO VALLEY
17750 Sherman Way #310
Reseda, CA 91335
Phone: 818-206-8121
HCO #194700201