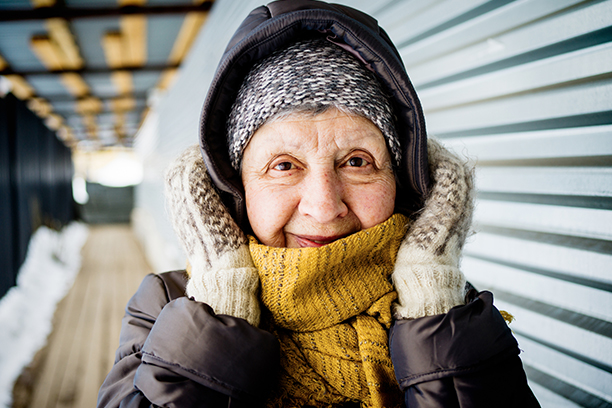 Parkinson's Care in San Fernando Valley
Parkinson's Care in San Fernando Valley
Parkinson's is a disease that affects thousands of Americans every year, making day-to-day life a persistent struggle. One of the most difficult parts of having Parkinson's is knowing that there isn't a cure for the condition, and symptoms can only be treated with special medications. No one should have to struggle through Parkinson's alone, that's why Visiting Angels provides Parkinson's care in the San Fernando Valley to assist patients as they work through the daily challenges of living with the disease.
Our caregivers have experience caring for a wide range of clients and managing all of their unique needs, ensuring that our patients are able to live comfortably every day. We're dedicated to working with you and your family to create a system of care that best suits your needs and makes treatment as stress-free as possible.
Visiting Angels is a network of franchised home care agencies that are committed to delivering comprehensive home care and post-operative care throughout the United States. With over 20 years of experience caring for people, you can have peace of mind knowing that you or your loved one are in capable hands.
If you or a loved one needs Parkinson's care in the San Fernando Valley, call our team at Visiting Angels today.
How Parkinson's Affects Daily Life
Parkinson's is a complex disease that can affect people in many different ways, but there are a few central symptoms that can affect daily life. Parkinson's is a disorder of the central nervous system that largely affects movement, and it's most often marked by bodily tremors. These involuntary movements can make routine tasks like eating or walking difficult, and these symptoms can progress to the point where overall mobility becomes significantly lessened.
What to Expect From Parkinson's Progression
Part of Parkinson's disease's complexity comes from its degenerative nature, which can cause symptoms to get much worse over time. Parkinson's symptoms progress differently for everyone, but in many cases, what started as a hand tremor can turn into severe muscle weakness or loss of coordination. The disease is often broken up into 5 stages to get a better idea of how severe symptoms are getting, but it's best to keep in mind that not everyone will experience Parkinson's the same way.
The 5 stages of Parkinson's and their symptoms are as follows:
Stage One: The symptoms of Parkinson's will be the least severe in this stage, and those in this stage will often develop slight tremors on one side of the body

Stage Two: Symptoms will begin to get worse in this stage, as tremors and muscle rigidity will begin to affect both sides of the body

Stage Three: People in this stage will still be able to live independently, but symptoms will begin to significantly impair the ability to eat or get dressed

Stage Four: Individuals in this stage will require daily help with activities, and the severity of symptoms will leave them unable to live alone

Stage Five: Most major motor functions will cease to work properly, and around-the-clock care will be necessary for all activities
Parkinson's disease is not an easy condition to manage, and as it worsens, caring for yourself or a loved one will become increasingly more difficult to accomplish alone.
Benefits of Parkinson's Care
Managing Parkinson's can be a tricky task, as it's not something that can be taken care of as quickly as some other diseases. There are no surgeries to get rid of Parkinson's, nor are there any medications that can completely cure it. Most of the time, patients will simply be required to treat symptoms with medications while also doing what self-care they can to make everyday life a little easier.
While it's possible to manage Parkinson's without the help of an in-home care agency, the support provided by Visiting Angels has numerous benefits. Parkinson's can leave people feeling very vulnerable, that's why we're committed to providing care that makes you feel happy, healthy, and safe. No one should have to go through Parkinson's alone, and our Parkinson's care ensures that you always have someone who can help you with life's daily challenges.
With Visiting Angels' in-home care, you receive the assistance that you need from the comfort of your own home. Our in-home care professionals are trained to help you around the house in any way they can, so you don't have to risk any unnecessary strains or injuries. You deserve to live comfortably through your Parkinson's treatment, and our caregivers are prepared to work with you and your family to provide the best possible service.
Our Parkinson's Care Services
At Visiting Angels, your health is our top priority. That's why our Parkinson's care services are the most comprehensive they can be, so you can get the rest you need while managing such a difficult disease. From medication management to companionship, our professional caregivers are here to help you every step of the way.
Below are some of the most common Parkinson's care services we provide in the San Fernando Valley.
Housekeeping
Parkinson's can make moving around the house more difficult than it used to be, which can turn completing daily chores into a challenging task. Just walking around can become strenuous, and after a certain point, some people may not be able to bend down or reach high places. Your house is supposed to be where you feel the most secure, and that's why our housekeeping services are here to make sure your living space is in optimal condition.
Our housekeeping services include:
Daily chores like sweeping, vacuuming, dusting, watering plants, etc.

Cleaning and disinfecting toilets, showers, sinks, and countertops

Dishes

Emptying garbage

Cleaning out the fridge

Laundry
Medication Reminders
Treating the symptoms of Parkinson's can mean taking numerous medications at very specific times, which can become difficult to manage if a person begins to develop dementia. We help you prevent any hitches in your Parkinson's treatment by providing medication reminders so you never miss a dose.
Transportation
The movement restricting symptoms of Parkinson's can make it very dangerous to operate a motor vehicle, and attempting to do so could put you and other motorists in unnecessary peril. In this situation, it's best to leave the responsibilities of transportation to someone else, and that's why our care specialists are prepared to drive you wherever you may need to go. Visiting Angels will bring you to any medical appointments, prescription pick-ups, general errands, and more.
Personal Care
Your health is our priority, and that includes personal hygiene and physical maintenance. Our caregivers are prepared to assist you with tasks such as showering, grooming, getting dressed, and using the bathroom. With how important physical exercise can be to Parkinson's management, light physical activity can also be arranged.
Food Preparation
In addition to our housekeeping and personal care services, Visiting Angels conduct food preparation to ensure that you're properly eating during your Parkinson's management. Eating can be difficult for those with Parkinson's due to the fine motor skills required for preparation and feeding, but getting the right nutrients each day can be an important part of making sure Parkinson's symptoms don't progress too rapidly. Our experienced caregivers can work with you to plan, make, and potentially feed you well-balanced meals that meet your specific needs.
Companionship
Parkinson's treatment can be a long and lonely process, as there may not always be an available caregiver who can help manage the disease's many symptoms. It can also be difficult for those that begin to experience dementia, as a lack of social interaction could lead to worsened cognitive ability over time. This is where Visiting Angels can step in to provide companionship as you work through the struggles of Parkinson's. Whether you want someone to watch television with, play games, or just have someone to talk to, we're here to make Parkinson's as painless as possible.
How Long is Parkinson's Care?
When you think of Parkinson's care, you likely envision a long-term service. However, Visiting Angels also provides short-term Parkinson's care in the San Fernando Valley. If you're starting rehabilitation following diagnosis and need someone to help you to and from your initial appointments, our caregivers can help. If you need support during your early-stage symptoms, we can help. No matter if you need long-term or short-term Parkinson's care, Visiting Angels provides compassionate, all-encompassing support.
Areas We Serve
We provide Parkinson's care in the San Fernando Valley, which includes the following locations:
Shadow Hills, CA

Reseda, CA

Van Nuys, CA

North Hollywood, CA

Valley Village, CA

Tarzana, CA

Sherman Oaks, CA

Valley Glen, CA

Lake Balboa, CA

Sherman Village, CA

Studio City, CA

Chatsworth, CA

Northridge, CA

Sherwood Forest, CA

Porter Ranch, CA

North Hills, CA

Sepulveda, CA

Granada Hills, CA

Sunland, CA
Why Choose Visiting Angels
Visiting Angels has been a trusted name in-home care for over 20 years. We provide specialized care built around your schedule, treatments, personal preferences, and health needs. Our professional and experienced caregivers prioritize your safety, health, and comfort over everything else in order to make your treatment as smooth as possible. When you trust Visiting Angels to care for you or a family member, you get the support of people who are dedicated to your well-being.
To talk to our team about Parkinson's care in the San Fernando Valley, CA, contact us today. We look forward to helping you in any way we can.
Serving Reseda, Granada Hills, Porter Ranch, Sherman Oaks, North Hollywood and throughout the San Fernando Valley area
Visiting Angels
RESEDA, CA
17750 Sherman Way #310
Reseda, CA 91335
Phone: 818-206-8121
Fax: 818-742-6246
HCO #194700201