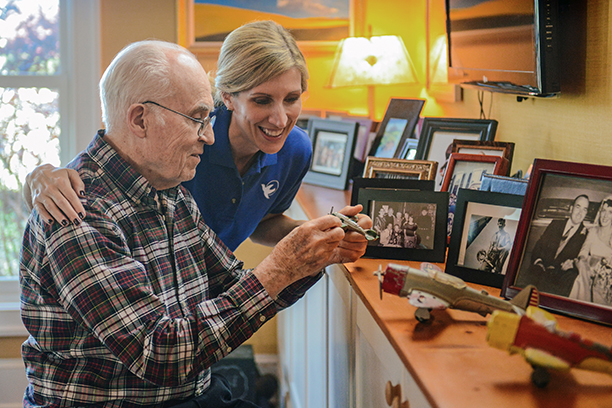 Cataract Post-Op Care in Chatsworth, CA
Post-Operative Care in Chatsworth
Are you getting cataract surgery soon and planning to recover alone? It's important to know that immediately following an invasive procedure, you're likely going to experience some discomfort and necessary restrictions in your daily life. Going it alone can be dangerous and lonely. At Visiting Angels, we provide cataract surgery post-op care in Chatsworth, CA, so you can recover without the worry of complications.
Our caregivers have cared for patients after a variety of different surgeries, including cataract surgery. We are a network of home care franchised agencies with 24 years of post-op care experience. Our experience allows us to provide compassionate and holistic care, personalized to each of our clients.
If you want to support your body's healing from surgery, call Visiting Angels to learn more about our post-operative care in Chatsworth, CA.
How to Know if You Need Cataract Post-Op Care in Chatsworth, CA
Not every surgery is made equal. Some are more invasive than others which means some recoveries are more difficult than others. To better determine whether you'll need post-operative care, it's important to ask your doctor the following questions before your procedure:
How long is my recovery time expected to be?

Will there be any follow-up therapy required during recovery, and when would it need to begin?

What are some specific actions or activities I should or should not do following surgery?

Will I need to rent or purchase any specific medical equipment, like a walker, wheelchair, or any other assistive or adaptive tools to use during my recovery?
If your answers to these questions are one or more of the below, you should reach out to Visiting Angels to learn more about how our cataract post-op care can help you recover.
Recovery is expected to be long

Therapy is necessary following surgery

Your doctor advised you to avoid many mundane, but necessary tasks

You'll need a walker or wheelchair to move around
At Visiting Angels, we're dedicated to helping you heal no matter how long you need care or in what ways you need our assistance.
Benefits of Post-Operative Care
The days following any cataract surgery, whether it's elective, preventative, or an emergency, are difficult and often require caution. As your body recovers, your doctor will likely advise you to avoid some everyday tasks such as cooking, cleaning, driving, or even showering. Doing such tasks on your own while recovering could threaten your health and safety.
Depending on the invasiveness of your procedure, it is possible to recover from surgery without receiving post-op care from a home care agency. However, there are many benefits to cataract surgery post-op care. Our caregivers at Visiting Angels ensure your health, happiness, and safety at all times, which is especially important at your weakest. Whenever you need assistance, we are there to help with whatever you need.
Other benefits of post-operative care include the ability to stay in the comfort of your own home. There's nothing more restful than being in your own space, in your own bed, and eating from your own food preferences. Additionally, when recovering alone, it can be easy to miss warning signs of surgical wound infection or accidentally injure yourself. Post-op care ensures you have a full, comfortable recovery.
Our Post-Operative Care Services
Our post-operative care is holistic, covering every aspect of your life so you can focus entirely on your health and recovery. From housekeeping to transportation, our dedicated caregivers have experience keeping clients happy and healthy.
Below we outline each of our post-operative care services so you can better understand what we provide in Chatsworth, CA.
Housekeeping
Cleaning is likely at the bottom of your to-do list after cataract surgery or, if you enjoy cleaning, your limited mobility will restrict what you're capable of completing. If you don't think you'll be capable of bending down, reaching high areas, or standing for long periods of time, our post-op caregivers provide housekeeping. It's important to us that you have a clean home where you can recover.
This cataract surgery post-op care service includes the following:
Daily chores like dusting, vacuuming, sweeping, watering plants, etc.

Cleaning and disinfecting showers, toilets, and sinks

Laundry

Emptying garbage

Dishes

Cleaning out the fridge
Medication Reminders
Our cataract surgery post-op care also includes medication reminders because staying on top of your medication, whether pain or otherwise, is essential in a full recovery. It can be easy to forget about your regular routine when your body is hurting, but we'll stay on top of it for you.
Transportation
It's common that following cataract surgery, your doctor advises you not to drive. Regardless of this instruction, it doesn't change whether you need to be somewhere. At Visiting Angels, our post-operative care includes transportation. We'll drive you to medical appointments, grocery shopping, prescription pick-up, social events, and more. We believe that just because you're in recovery doesn't mean you should be completely isolated in your home.
Personal Care
Hygiene plays a key role in your health and recovery after surgery. Our cataract surgery post-op care includes showering, grooming (hair care, brushing teeth, shaving, etc.), dressing, and toileting. While you may feel bashful about getting help with these tasks, our caregivers ensure your comfort and privacy every step of the way.
Companionship
The hard parts of life are always easier with a companion. Included in our post-op care in Chatsworth, CA is companionship. We understand how lonely you can feel, especially when you don't feel well. Our caregivers ensure you're healthy as well as happy by talking with you, playing games, reading books together, watching television, or doing any other activity that makes you feel joy.
Areas We Serve
We provide post-operative care in the San Fernando Valley, which includes the following locations:
Chatsworth


Granada Hills




Lake Balboa




North Hills




North Hollywood




Northridge




Porter Ranch


Reseda


Sherman Oaks




Sherman Village




Sherwood Forest


Studio City


Sunland




Tarzana




Valley Glen




Valley Village




Van Nuys
Why Choose Visiting Angels
Since 1998, Visiting Angels has been a trusted provider of home care. Our post-op care caters to your schedule, surgery, preferences, and health needs so you can get the exact support you need no matter your surgery. We put your safety, health, and comfort above all else, making our post-operative care holistic and compassionate. When you work with our trained and experienced caregivers, you can't be in better hands.
To talk to our professional office team about how cataract surgery post-op care in Chatsworth, CA can help you following your surgery. Call us today.
Serving Reseda, Granada Hills, Porter Ranch, Sherman Oaks, North Hollywood and throughout the San Fernando Valley area
Visiting Angels
RESEDA, CA
17750 Sherman Way #310
Reseda, CA 91335
Phone: 818-206-8121
Fax: 818-742-6246
HCO #194700201