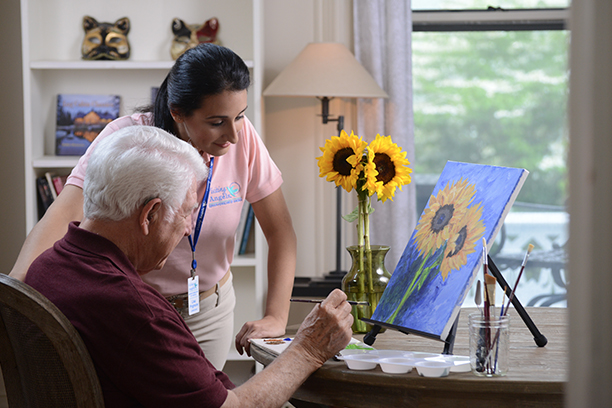 Home Care Agency Sherman Oaks, CA
Home Care Agency Sherman Oaks, CA
Personalized Home Care at Visiting Angels
Visiting Angels is California's number one choice for personalized home care services. We are a reliable home care agency in Sherman Oaks that provides care services so you can be happy and healthy at all times, no matter what condition you may be managing. Our services assist individuals in numerous vulnerable positions, including recovery from a recent medical procedure, a cancer diagnosis, or health complications related to Alzheimer's or dementia.
To learn more about how the caregivers at Visiting Angels can provide assistance with customized home care in Sherman Oaks, CA, contact us today to schedule a free consultation.
Why Choose Visiting Angels
Visiting Angels is a home care agency committed to assisting those with limited mobility and bodily functions. Our goal is to provide care that improves your quality of life in every way possible, and our caregivers are knowledgeable on a wide range of services. To maintain your overall well-being, we offer the following home care services:
Running errands

Light housekeeping

Toileting and incontinence care

Transportation

Medication reminders

Conversation and companionship

And much more!
Our Home Care Services
Our home care agency in Sherman Oaks, CA aids those experiencing health issues and advanced aging. Our team of skilled and licensed caregivers is dedicated to serving you with compassion, respect, and genuine concern for your well-being.
Continue reading for more information on our home care services, or schedule a free in-home consultation with Visiting Angels today so we may assess your needs and provide you with the holistic care you need.
Alzheimer's & Dementia Care
Alzheimer's disease and dementia are degenerative conditions that greatly affect a person's mental function and cognitive ability, including memory and linguistic skills. These disorders can be especially difficult for family caregivers to handle, as they can dramatically alter a person's mood, personality, and memory. Individuals with Alzheimer's and dementia may completely forget who their friends and family members are and reach a point where the help of a professional caregiver is the only way to ensure they receive the care they need.
Visiting Angels' professional caregivers provide patient and compassionate care for clients managing disorders such as Alzheimer's and dementia, and we'll work with families to customize care toward the needs of every client.
Post-Op Care
After any medical procedure or operation, it's important to remain patient and cautious to avoid any injury during recovery. Wounds and surgical incisions need time to heal, and the best way to ensure recovery is completed without issue is through proper rest and aftercare. Our caregivers have experience assisting patients after various operations, from heart surgery to rhinoplasty. Our post-op care guarantees your doctor's aftercare orders are followed and that you don't have to place any undue strain on your body.
Post-Covid Care
Just as post-operative care requires a special amount of sensitivity, the time period after a Covid-19 diagnosis and infection can be particularly delicate. Covid-19 can have severe effects on a person's body, and it's crucial to remain rested and hydrated as the body fights off infection. Our caregivers provide post-Covid care to facilitate recovery and ensure clients get the support they need during such a vulnerable time.
Cancer Care
Cancer care is one of our most requested services, as our professional caregivers provide top-of-the-line care for those managing cancer symptoms and treatment. Our goal in all areas of care is to improve the health and happiness of our clients, and our cancer care ensures anyone suffering or recovering from cancer remains as comfortable as possible.
Hospital Caregivers
Although our specialty is home care, our caregiving services are not restricted to your place of residence. Our home care agency in Sherman Oaks, CA also offers hospital caregiving services to supplement and complement the care you're already receiving at a medical facility. Hospital workers have been stretched thin and in short supply in recent years due to the overwhelming amount of Covid-19 patients, so our hospital caregivers fill in to provide customized care services alongside the professional medical care you're receiving.
Areas We Serve
Visiting Angels provides quality home care services to the following regions in California:
Sunland, CA

Shadow Hills, CA

Reseda, CA

Van Nuys, CA

North Hollywood, CA

Valley Village, CA

Tarzana, CA

Sherman Oaks, CA

Valley Glen, CA

Lake Balboa, CA

Sherman Village, CA

Studio City, CA

Chatsworth, CA

Northridge, CA

Sherwood Forest, CA
Get Started with Visiting Angels in Sherman Oaks, CA
Visiting Angels is a home care agency that Sherman Oaks, CA can trust. With our team of dedicated, skilled, and experienced caregivers, you and your loved ones can have peace of mind knowing you're in capable hands. Your comfort is at the center of everything we do, no matter what kind of care you require.
For more information on our quality caregiving services or to schedule a free in-home assessment, contact our home care agency in Sherman Oaks, CA today!
Serving Reseda, Granada Hills, Porter Ranch, Sherman Oaks, North Hollywood and throughout the San Fernando Valley area
Visiting Angels
RESEDA, CA
17750 Sherman Way #310
Reseda, CA 91335
Phone: 818-206-8121
Fax: 818-742-6246
HCO #194700201