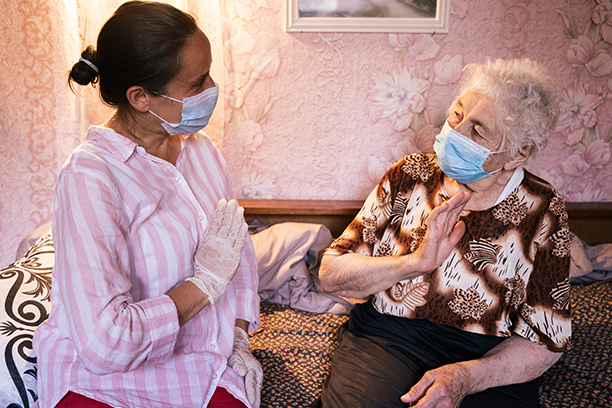 Personal or Private Duty Care in Reynoldsburg
Supporting a relative whose physical or mental condition is declining is an extremely high-pressure responsibility. Often, making sure they have what they need, when they need it can become like a full time job. Adding to that the stress of worrying about their safety is a recipe for caregiver burn-out, and when you're not at your best, it's impossible to provide the best care for your loved one. Personal care from Visiting Angels Reynoldsburg offers the perfect solution. We match seniors with skilled and tender-hearted caregiver companions who can be there to guide them safely through their daily difficulties. Not only do our personal caregivers keep seniors in Reynoldsburg safer at home, they lift their spirits and in doing so, lift the burden from your shoulders, too.
Personal Care Specialists in Reynoldsburg
Personal care is an extremely delicate matter. The situations in which a senior requires assistance are sensitive ones, so it is crucial that the caregivers providing that assistance are extremely sensitive as well. At Visiting Angels Reynoldsburg, we bring only the most compassionate individuals onto our team. Our top-class caregivers can provide dignified assistance with a whole array of tasks.
Some of the ways that personal care from Visiting Angels Reynoldsburg helps families include:
Relieving the anxiety and guilt of family caregivers
Monitoring them to prevent in home accidents
Insuring that seniors don't fall behind on their medications
Helping seniors stay socially active and engaged
Coordinating deliveries for medical supplies and equipment
Keeping seniors clean, tidy, and well-groomed
Getting Started with Personal Care
At Visiting Angels Reynoldsburg, we believe that exceptional personal care is all about getting the right fit. We also know that every family is a little bit different, so we build each and every personal care strategy from the ground up. Before we can build your loved one's customized care plan, we need have the full picture in terms of their needs. We do that by first meeting with any involved family members at home to discuss their loved one's condition and requirements. We can also consult with their doctors, nurses, therapists, or other support staff in order to make sure that the care we provide complements and supports their existing care. In addition to Reynoldsburg, we proudly serve our neighbors in Johnstown, Groveport, Lancaster, and Fairfield, Franklin, and Licking Counties with personal care services.
Call Visiting Angel Reynoldsburg today to get started with a free, in-home personal care consultation.
Serving Fairfield, Franklin & Licking Counties including Johnstown, Groveport, Lancaster and the Surrounding Areas
Visiting Angels Reynoldsburg, OH
7315 E Main St
Reynoldsburg, OH 43068
Phone: 614-866-5000