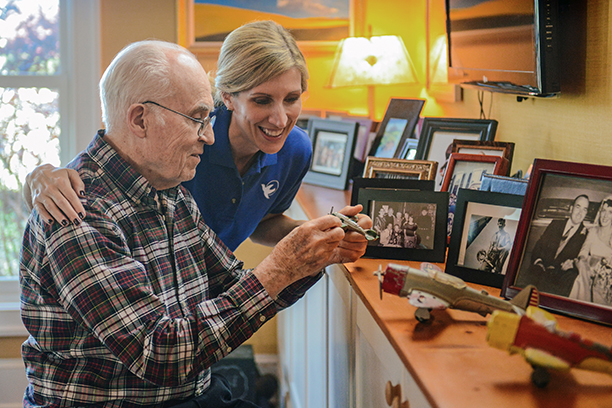 Our Character
Compassionate & Reliable In Home Senior Care from Visiting Angels San Antonio
When you hire a caregiver for in home senior care, you're doing more than simply hiring a living assistance provider. Caregivers quickly become a major part of you loved one's life and routine. What's more, a caregiver's experience is often relied on by members of their client's family when making decisions about care. Visiting Angels San Antonio is committed to connecting you and your loved one with an in home senior care professional who not only has the background, skills, and experience you'd expect from a top-level home care provider, but who also displays exceptional character – the kind of person who makes life easier just by being there.
When hiring caregivers for Visiting Angels San Antonio, we put applicants through detailed, multi-step interviews. Our priority here is not just the applicant's experience with in home senior care, but also the kind effort and character that the applicant brings to their work. We look for things like enthusiasm and job enjoyment, respect and compassion for clients, and their level of dedication to in home senior care.
For the team from Visiting Angels San Antonio, it's about matching clients with living assistance providers our care recipients can connect with. Aging goes beyond simple physical changes, and our caregivers do more than just help our care recipients bathe, get dressed, and prepare food. Caregivers also provide companionship and support, bolstering emotional as well as physical well-being.
To make sure you're comfortable with your in home senior care provider, we make sure you have the chance to personally screen and interview the caregivers we recommend. This is part of the pre-care consultation we offer to all of our clients. At Visiting Angels San Antonio, we personalize your loved one's care to address their particular difficulties, concerns, and lifestyle.
Remember also that as care continues, changes to your loved one's condition may require further care. Part of why we insist on hiring caregivers who engage on a personal level with our clients is because they are often the first to notice these changes, and can then offer recommendations about how your family member's in home senior care might be adjusted and improved.
To get in touch with a member of our in home senior care team, or to find out more about how our caregivers can brighten the day-to-day routine of your loved one, give us a call at our San Antonio office today.
Serving San Antonio and Bexar County, TX
Visiting Angels
SAN ANTONIO, TX
6900 Blanco Rd #140
San Antonio, TX 78213
Phone: 210-826-9200