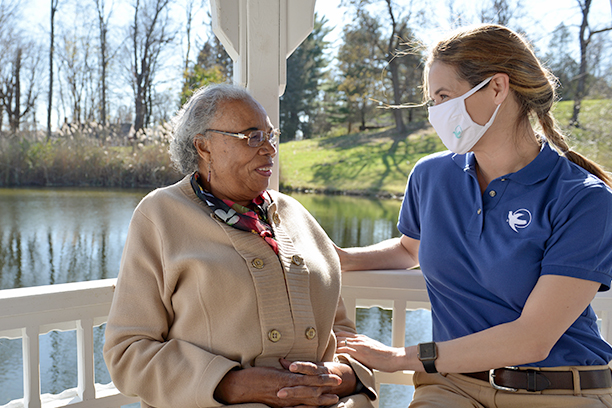 Alzheimer's FAQs: Home Care Specialists from Visiting Angels San Rafael Answer All Your Questions About Alzheimer's Disease
Our home care specialists can help you learn more about Alzheimer's disease and your options for Alzheimer's care in San Rafael, Novato, Belvedere, Fairfax and surrounding areas in Marin County, CA
What is Alzheimer's?
Alzheimer's disease, the most common type of dementia, is a degenerative brain condition that worsens over time. It causes memory loss, cognitive deterioration, and changes in behavior, thus taking a toll on the affected individual's whole life.
Sadly, Alzheimer's disease is a terminal illness, with most patients living 4-8 years after getting their diagnosis. It is the 6th most common cause of death in America and around 5.5 million people, mostly seniors, live with it in our country alone.
If your loved one has recently been diagnosed with Alzheimer's, it is important to learn as much as possible about the condition. Whether you are currently providing care for your loved one or considering hiring home care specialists from a reputable senior home care agency like Visiting Angels San Rafael, this FAQ will provide you with the answers you need to make an informed decision.
What is the Difference Between Dementia and Alzheimer's?
Dementia is not a specific illness; it is an umbrella term for many brain conditions, all of which have one thing in common – memory loss. It is estimated that 60-80% of all dementia cases are actually Alzheimer's cases.
It is important to keep in mind that our senior home care agency can keep your loved one safe and comfortable at home, even in the mid and later stages of the illness, no matter what type of dementia they suffer from.
What are the Risk Factors for Alzheimer's?
The top 3 risk factors for developing Alzheimer's disease include:
Advanced age – most Alzheimer's patients are 65+ years old.
Genetics – people with a family history of Alzheimer's are more likely to develop the condition.
Cardiovascular health – people with hypertension, high cholesterol, and diabetes as well as those who had a stroke or heart attack are at a higher risk of developing Alzheimer's.
These are not the only risk factors. Our home care specialists at Visiting Angels San Rafael point out that other factors that increase a person's risk of getting Alzheimer's include:
Problems sleeping
High levels of stress
Heavy smoking and/or drinking
Head trauma
Exposure to air pollution
What are the Symptoms of Alzheimer's?
The most common symptoms of Alzheimer's disease are:
Memory loss, both short-term and long-term
Difficulty solving simple problems
Difficulty performing simple daily tasks
Trouble remembering words or getting words mixed up
Frequent loss of items
Confusion about time, place, names of people and more
Out of character behavior and actions
How Does Alzheimer's Disease Progress?
It is now widely believed that people with Alzheimer's have developed the illness years before they started noticing the first symptoms. When the symptoms start appearing, they are at first mild and do not affect a person's ability to live independently. However, as the condition progresses, the symptoms worsen and the person affected may lose all memory, be unable to speak and understand speech, and completely depend on family caregivers, home care specialists or caregivers in a facility.
Does Alzheimer's Disease Have a Cure?
Unfortunately, as of yet, there is no known cure for Alzheimer's disease. Current treatments and clinical trials may slow down the beginning of the condition, delaying its symptoms for as long as possible, or help reduce the progression of the illness.
People with Alzheimer's should lead a healthy lifestyle, making sure to improve their cardiovascular health. According to doctors, they should aim to sleep better, consume more foods rich in omega-3 and decrease stress levels.
What are My Options for Alzheimer's Care in Marin County?
If your loved one has just been diagnosed with Alzheimer's and their symptoms are not yet severe, they can still maintain an independent lifestyle with your help or the support of other family members. However, when the condition begins worsening, you may wish to consider professional Alzheimer's care.
Your options include moving your loved one to a nursing home, which is not the ideal solution for people with Alzheimer's disease, as their symptoms tend to aggravate with changes in routine and environment, or hiring caregivers from a local senior home care agency like Visiting Angels San Rafael. With us as your caregiving partners, your loved one can continue aging in place regardless of the stage of their illness and they can get the best assistance and support to stay safe and comfortable at all times.
For more information about our personalized Alzheimer's care services, please contact our office in San Rafael, CA today at 415-233-9564!
Serving Marin County and throughout the North Bay Region, including San Rafael, Belvedere, Fairfax, Novato and surrounding areas
Visiting Angels
SAN RAFAEL, CALIFORNIA
77 Mark Dr #12
San Rafael, CA 94903
Phone: 415-233-9564
Fax: 415-499-1211
HCO #214700004