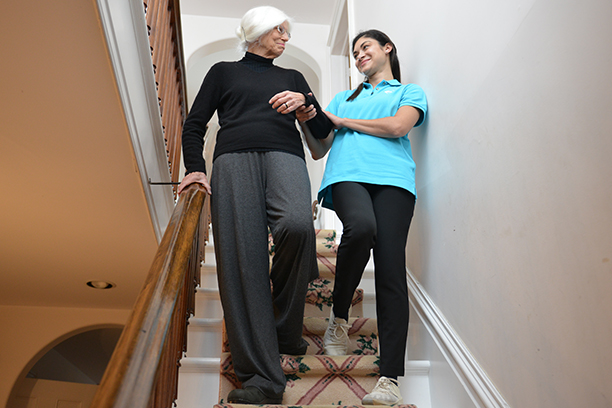 Reliable Long-Term Care Services for Seniors in Marin County
When an older family member or close friend becomes unable to live on their own, families typically take up the role of caregiver. If your senior loved one suffers from a chronic sickness or condition, providing the necessary care may become increasingly challenging. If this is your situation, Visiting Angels San Rafael can offer the care your loved one needs while also giving you peace of mind.
In addition to offering temporary and short-term senior care, we also offer long-term care services for elderly adults in San Rafael, Belvedere, Fairfax, Novato and throughout California's North Bay region. You can be confident that your loved one is in excellent hands when you rely on our trained, registered caregivers.
Benefits of Senior Care from Visiting Angels
For seniors who require care and support for more than a couple hours each day, there are several care options in Marin County. When family caregivers are no longer able to provide the level of care that their loved ones require, assisted living and nursing homes were formerly popular choices. Residential facilities, on the other hand, might make seniors feel as if they no longer have the independence they formerly had. This is one of the reasons why in-home senior care is growing increasingly popular among the elderly. The problem now is figuring out which home care agency can provide the care your loved one needs to remain in their own home for as long as possible.
When you pick Visiting Angels for long-term care, you are choosing a company that specializes in providing personalized in-home care services for each and every senior in our care. We understand that no two seniors' care requirements are the same, therefore we don't believe in a "one size fits all" approach to care. Our team will work with you and your family to create a care plan that includes the services that your loved one requires. Furthermore, we will work around your loved one's schedule to ensure that they get the care they need when they need it the most.
Clients are highly encouraged to choose their preferred caregiver from our staff based on their requirements, personality, and other criteria. This allows our caregivers to give your loved one the level of care they need to age in place comfortably and safely.
Long-term care is particularly beneficial for seniors who are experiencing severe age-related problems or who have a chronic illness. Our caregivers can help your loved one manage their symptoms by aiding with Activities of Daily Living (ADLs) including meal preparation and housekeeping, as well as improving the amount of "good days" your loved one enjoys. Dementia patients benefit from long-term care as well. Because our services may be modified at any moment, our caregivers can adapt their approach based on your loved one's well-being and how far their dementia has gone.
Does Your Loved One Have Long-Term Care Insurance?
At Visiting Angels, we understand that long-term care for a senior loved one is out of reach for many families in Marin County. Many individuals in their 40s and 50s look into long-term care insurance, which may be used to offset the expense of care for your loved one during their golden years.
If you believe your loved one has this sort of insurance policy, we can work with you to determine whether it will cover the cost of our in-home care services.
Furthermore, because our care plans are completely customized, you will not be paying for services that your loved one does not require to be independent. Our objective is to find a happy medium between high-quality and affordable home care.
Does long-term care sound like the right solution for your loved one? If so, schedule a free in-home consultation today by calling our San Rafael, CA office at 415-233-9564.
Serving Marin County and throughout the North Bay Region, including San Rafael, Belvedere, Fairfax, Novato and surrounding areas
Visiting Angels SAN RAFAEL, CALIFORNIA
77 Mark Dr #12
San Rafael, CA 94903
Phone: 415-233-9564
Fax: 415-499-1211
HCO #214700004