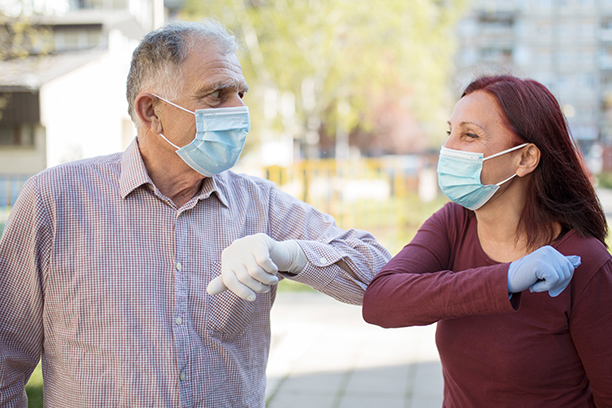 Home Care Solutions for Post-Surgery Recovery Care in Marin County
Many seniors in San Rafael, Belvedere, Fairfax, Novato and throughout Marin County who are recovering from a surgical procedure will need some form of aftercare once they return home. Their doctor may have recommended avoiding certain physical activities without some support, even ones that are simple like cleaning the home or using the stairs. If you're worried about your loved one's well-being during the healing process, consider home care solutions from Visiting Angels San Rafael.
Our home care solutions include services that can help seniors throughout Marin County safely recover from medical procedures, such as joint replacement surgery, right in their own home. At-home recovery has become a popular option for older adults. In fact, a study conducted by the Rothman Institute at the Thomas Jefferson University Medical School in Philadelphia found that about 90 percent of elderly patients usually return directly home after getting hip or knee surgery as opposed to going to a rehabilitation facility. Thanks to our professional caregivers, your loved one can receive support with daily tasks and a caring presence that will make sure they're on the road to recovery.
The Importance of Professional Care at Home During Recovery
After undergoing surgery, your loved one's medical team most likely provided some recommendations to follow during the recovery process. For example, your loved one may need some assistance when moving around or need help taking care of their personal hygiene. However, seniors who live on their own may have trouble following these guidelines, which can cause complications and make the recovery time longer. If you need additional help with making sure your loved one makes a smooth recovery after surgery. Visiting Angels can help.
Here are some ways our home care solutions can help:
Meal Preparation
When recovering, your loved one may have difficulty with cooking their own meals or shopping for groceries. In addition, certain types of surgery may mean that your loved one needs to avoid certain foods or needs to eat healthy foods to get the nutrients they need to keep up their strength. That's why at Visiting Angels, we offer meal planning and meal preparation, as well as assistance with shopping for groceries or picking up online grocery orders. We also provide feeding assistance for seniors who have trouble with fine motor skills.
Fall Prevention
During the recovery process, it's especially important that your loved one doesn't lose their balance and fall. That's why we offer a variety of fall prevention solutions. We can clear clutter from walkways when helping with light housekeeping, make sure your loved one doesn't slip on throw rugs or other floor coverings, help them with walking from room to room, and so much more.
Medication Reminders
Whether your loved one has been prescribed pain medication during the recovery process or regularly takes medication to manage chronic illnesses, our caregivers can remind your loved one to take their medication when needed and watch out for any signs your loved one is experiencing side effects.
Personal Hygiene Assistance
Our caregivers can help your loved one bathe or shower, groom, take care of their dental health, help them get dressed, and so much more. This is highly beneficial for seniors who have restricted mobility and movement during the recovery period.
Overnight Care
In addition to providing home care solutions during the daytime, we can also make sure your loved one remains safe and comfortable at night. In addition to helping your loved one establish a calming routine so they can sleep easier and helping them out of bed if they need to go to the bathroom, we can also provide meaningful companionship so your loved one doesn't feel lonely.
Why Choose Home Care Solutions from Visiting Angels San Rafael?
One of the biggest reasons why families in Marin County choose Visiting Angels for post-surgical care is because we focus on providing personalized home care solutions for every senior in our care. We will customize your loved one's care plan based on the services they need and what works best for their schedule. We can help your loved one with Activities of Daily Living (ADLs), provide companionship, and keep in regular contact with your family if we notice any changes in your loved one's behavior or overall well-being.
Our goal is to reduce the likelihood of hospital readmissions and ensure our clients can continue to live at home for as long as they wish. With home care solutions from Visiting Angels, you can have peace of mind knowing your loved one will be in capable and caring hands.
To learn more about postoperative care and other home care solutions from Visiting Angels, call our San Rafael, CA office at 415-233-9564 to schedule a free in-home consultation.
Serving Marin County and throughout the North Bay Region, including San Rafael, Belvedere, Fairfax, Novato and surrounding areas
Visiting Angels
SAN RAFAEL, CALIFORNIA
77 Mark Dr #12
San Rafael, CA 94903
Phone: 415-233-9564
Fax: 415-499-1211
HCO #214700004