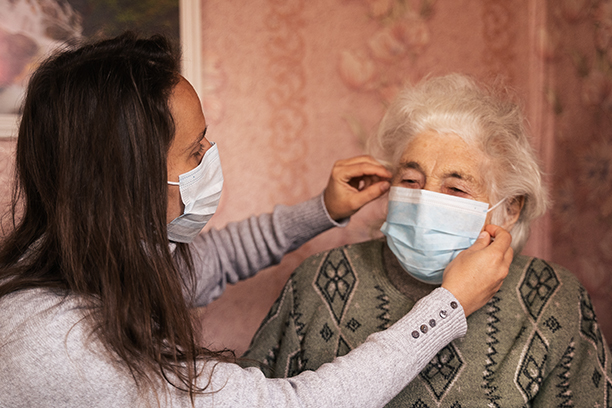 In-Home Palliative Care Services for Seniors in San Ramon, CA and Surrounding Areas
Through the Certified Palliative Care Program, our caregivers offer holistic home care solutions to comfort seniors in San Ramon, CA and surrounding areas
Does your senior loved one have a long-term illness or chronic condition? If so, they could benefit from a caring and comforting presence, especially if they live at home on their own. Luckily, palliative home care services from Visiting Angels San Ramon can help. We specialize in providing holistic personal care to support our clients' physical, emotional, social and spiritual needs. As an agency with extensive senior care experience, we know that it's not enough to focus on a single need. Seniors need comprehensive support in order to safely and confidently age in place.
What is Palliative Care?
Many people often mix up palliative and hospice care. While hospice care is usually provided when someone is nearing the end of their life, palliative services can be provided no matter the client's life expectancy. So whether your loved one has just been diagnosed with a health condition or needs advanced care, our Certified Palliative Care Program can provide the comfort and support they deserve.
Our program is rooted in a traditional model, meaning that we focus on enriching the lives of seniors in our care in all aspects. We train our caregivers to be supportive, soothing and comforting. Our caregivers are also trained to approach in-home care with a holistic mindset in order to assist with healing and restore hope to the lives of seniors in our care.
How Can In-Home Palliative Services from Visiting Angels Help Seniors in San Ramon and Surrounding Areas?
At Visiting Angels San Ramon, we specialize in providing essential in-home care that assists seniors with everyday tasks and helps them stay safe and comfortable at home. Through the Certified Palliative Care Program, our senior care professionals focus on soothing our clients by focusing on a wide variety of needs.
Here's how we can help your loved one:
Recognizing signs of discomfort and helping your loved one through personal care and meaningful support
Delivering compassion to help seniors who are suffering from depression, loneliness, stress or anxiety
Developing strong, long-lasting relationships with clients and families and providing joyful companionship and conversation
Helping your loved one find comfort in their lives and treating them with the dignity and respect they deserve
Why Choose Visiting Angels San Ramon to be Your Partner in Senior Care
At Visiting Angels San Ramon, we don't believe in a cookie-cutter approach to in-home care. That means when you choose us for palliative care services, we'll customize your loved one's care plan to fit their unique needs, as well as their schedule. We'll coordinate an in-home meeting with you and your loved one where you can go over the specific care your loved one needs and choose the caregiver that will be most compatible. We want to make sure your loved one receives the comforting, compassionate care they truly need.
To learn how Visiting Angels can help your senior loved one, contact our San Ramon, CA office today!
Serving Alameda, Contra Costa, Marin, and San Joaquin Counties
Visiting Angels San Ramon, California
16 Crow Canyon Ct #200
San Ramon, CA 94583
Phone: 925-243-7726
HCO #074700004