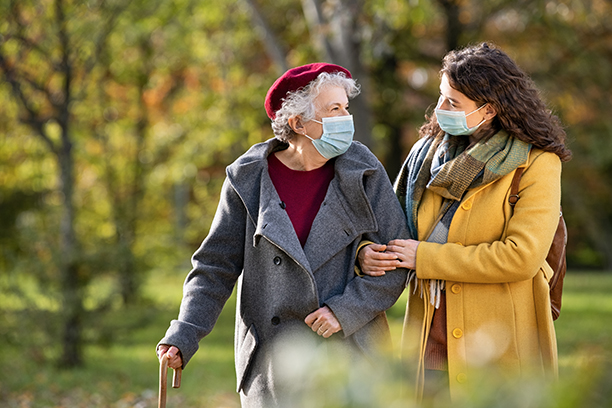 Fall Prevention and Other Home Care Solutions in the East Bay Area
Does your senior parent or other relative worry about falling in their own home? If so, Visiting Angels San Ramon can help. Our home care solutions help seniors stay safe by identifying and removing factors that could cause a fall.

How Falls Can Impact Seniors
As one of the leading senior care providers in San Ramon, Walnut Creek, Pleasanton, Orinda, Danville, Concord, and throughout Contra Costa and Alameda Counties, we understand that many seniors are anxious about the idea of falling. Indeed, falls are a frequent issue among seniors because many age-related factors can make seniors more susceptible to falling. In addition, seniors can take awhile to recover from a fall. Some may never regain their independence, even after recovering.
Here are some statistics that show how seniors are impacted by falls:
One in three seniors fall every year
One in five seniors who suffer a fall sustain a serious injury like a broken hip or concussion
Seniors who have fallen once are more likely to fall again
Every year, over 800,000 seniors are hospitalized for injuries sustained from falls
Seniors can take up to a year to recover from fall-related injuries in a long-term care facility; some seniors may never return home
With this information, it's easy to understand why seniors may be worried about falling. However, many seniors fear it to a point where they decline invitations to social events and functions in order to feel safe. This causes many seniors to feel lonely and depressed, which can lower their quality of life. That's why Visiting Angels offers customized and proactive home care solutions to help seniors stay safe and feel safe in their own home.
Risk Factors for Falls
What causes seniors to fall? The truth is there is no one single reason seniors fall. Falls can be caused by a number of factors, including but not limited to:
Physical and medical conditions like Parkinson's or arthritis
Hazards in the home
Poor eyesight
Side effects from medications
Dehydration
Lack of grab bars and other assistive devices
As part of our fall prevention services, our caregivers work with our senior clients to identify fall-related risks and do everything we can to remove them or lessen their impact so our clients can continue to live at home for as long as they wish.
How Our Home Care Solutions Help Seniors Stay Safe
Here are some of the ways we help clients stay safe:
We plan and prepare meals for seniors so they don't feel weak from hunger or thirst
We help seniors get around the house without worrying about falling
We help seniors get in and out of the tub to bathe or shower so they don't slip
We assist with light housekeeping to remove clutter that can cause seniors to trip and fall
We remind seniors to take their medication, make sure they take the correct dosage and make sure they don't experience any side effects
We can take seniors to medical appointments if they or you suspect they have a health condition that could increase their risk of falling
And so much more
If our home care solutions could help your loved one stay safe, contact our San Ramon, CA office at 925-243-7726 today.
Serving the East Bay and Tri-Valley areas including Walnut Creek, Pleasanton, San Ramon, Orinda, Danville, Concord, Moraga and throughout Contra Costa & Alameda Counties
Visiting Angels
SAN RAMON, CALIFORNIA
16 Crow Canyon Ct #200
San Ramon, CA 94583
Phone: 925-243-7726
Fax: 925 552-6589
HCO #074700004