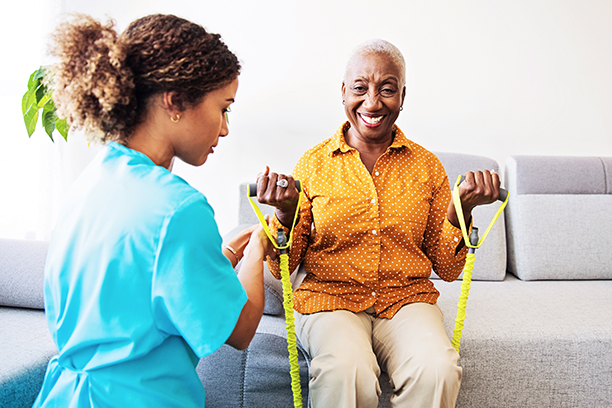 Ready-Set-Go Home: Helping Seniors in the East Bay Area Return Home from the Hospital
If a parent or other relative has recently been discharged from the hospital, Visiting Angels San Ramon can help them return home and provide the care they need. Our Ready-Set-Go Home program offers personalized in-home support for seniors in Walnut Creek, Pleasanton, San Ramon, Orinda, Danville, Concord, Moraga and throughout Contra Costa and Alameda Counties who have been discharged in order to reduce the likelihood of re-admission. With personalized one-on-one care from our dedicated home health aides, we can make the recovery process easier for clients and give their families peace of mind.
The Importance of In-Home Care After Being Discharged
About 20 percent of recently discharged elderly patients who are on Medicare end up back in the hospital within 30 days of being sent home. Many of these readmissions can be avoided by following medical directives after being discharged. However, recovering from a serious injury or illness can make even some of the most basic tasks and recovery recommendations difficult without some assistance.
Reducing the rate of readmission is crucial when being discharged. Seniors face a lower chance of recovery if they are hospitalized within 30 days of being discharged, which can negatively impact their quality of life. If you're worried about your loved one's recovery process, choose the Ready-Set-Go Home program from Visiting Angels.
We are committed to providing essential personal home care services to help seniors in Contra Costa and Alameda Counties safely recover at home. Our home health aides help clients transition home, provide any in-home assistance they need with day-to-day tasks and make sure they follow their doctor's recommendations for recovery.
How the Ready-Set-Go Home Program Helps Seniors in San Ramon and Surrounding Areas
Through the Ready-Set-Go Home program, we use a three-prong approach to help seniors recover:
At the Hospital
While a client is hospitalized, our home health aides will coordinate with their medical team regarding their discharge. We will also discuss discharge strategies with their family and provide any support needed during this time. We help ensure families receive the information they need and understand what the discharge process includes.
At the Client's Home
When clients return home, our home health aides will provide proactive in-home care to help them with everyday tasks. We can help with medication reminders, preparing meals, running errands, transportation to medical appointments and more.
We can also monitor clients in case they miss any scheduled medications or follow-up appointments. We make sure to keep an open line of communication with the families we work with so they can be informed at all times.
At Our San Ramon Office
We are equipped with the knowledge and tools needed to reduce readmissions and identify clients who are at a high risk of needing additional care. We can also work with families to coordinate deliveries for medication, food and medical equipment.
Contact our San Ramon, CA office at 925-243-7726 to learn how the Ready-Set-Go Home program can help make the transition home easier.
Serving the East Bay including Walnut Creek, Pleasanton, San Ramon, Orinda, Danville, Concord, Moraga and throughout Contra Costa & Alameda Counties
Visiting Angels
SAN RAMON, CALIFORNIA
16 Crow Canyon Ct #200
San Ramon, CA 94583
Phone: 925-243-7726
Fax: 925 552-6589
HCO #074700004