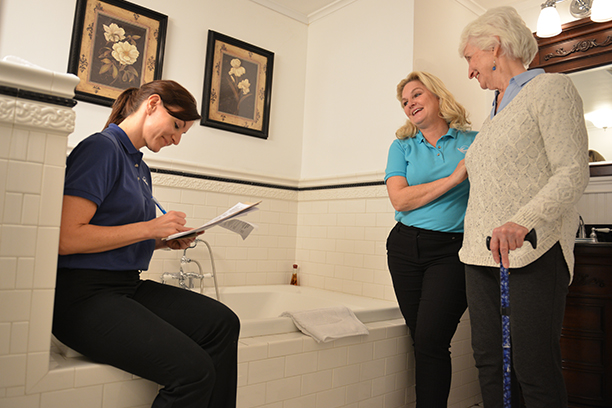 24 Hour Home Care
24 Hour Home Care Provides Seniors with Professional Assistance, Day and Night
Our compassionate caregivers provide meaningful assistance and added safety for seniors in their homes
Many seniors living with chronic health conditions or progressive diseases, like dementia, wake up frequently throughout the night. It's not uncommon for older adults to be prone to sleepwalking, wandering, or confusion during the night. Seniors who have trouble getting in and out of be may be at risk for accidents or injuries during nighttime trips to the bathroom or kitchen. To meet the on-going needs of independent seniors, Visiting Angels offers 24 hour home care services in Santa Clarita and the surrounding areas of California.
How 24 Hour Home Care Works
Even if your loved one gets around fairly well on their own, 24 hour home care can prove to be very beneficial to their quality of life. Visiting Angels Santa Clarita is a non-medical home care agency and our caregivers are qualified to meet a variety of senior care needs. This includes personal care needs, such as bathing, getting dressed, toileting, and feeding assistance, as well as companionship, meal preparation, light housekeeping, grocery shopping, and medication reminders.
Our trained caregivers will work in shifts to provide the professional, reliable assistance your loved one needs in the comfort of their home. During the day, Visiting Angels caregivers can help your senior mom or dad get ready for the day, eat meals, run errands, get to appointments, or complete exercise regimes. When an overnight caregiver arrives, they can help your loved one get settled into bed and perform quiet services such as folding laundry or tidying up living areas.
If your loved one is recovering from surgery or a stay at a rehabilitation facility, caregivers can offer mobility assistance and medication reminders. Having this extra help can ease the recovery process, encouraging a faster, safer recovery while reducing the risk of injuries or readmissions.
24 hour home care services ensure that your loved one has professional assistance at all times. In case of an accident or emergency, caregivers can quickly contact emergencies services. Our caregivers often serve as companions for seniors who wake up during the night and are confused or upset. By simply being there to provide soothing words and a comforting hand, Visiting Angels offer meaningful care.
Creating a Customized Plan of Care
Our service coordinators work closely with each senior and their families to create a customized 24 hour home care plan. This plan of care can be modified as often as needed. For example, if your loved one typically needs care only in the morning, but your family will be out of town on vacation, our coordinators will work overnight care into your loved one's plan. If you have any questions about the status of your loved one's care services, you can call Visiting Angels Santa Clarita anytime at (661) 263-2273.
If you think that consistent, professional in home care could improve your senior loved one's quality of life and wellness, please contact our office today! Whether they need help for just a few hours each week, daily care assistance, or 24 hour home care, we are happy to work with you and your family to create a personalized care plan that best suits your needs. Contact Visiting Angels Santa Clarita today!
Serving Santa Clarita and the Antelope Valley, CA
Visiting Angels
SANTA CLARITA, CA
25115 Avenue Stanford #A101
Valencia, CA 91355
Phone: 661-263-2273
HCO #194700185