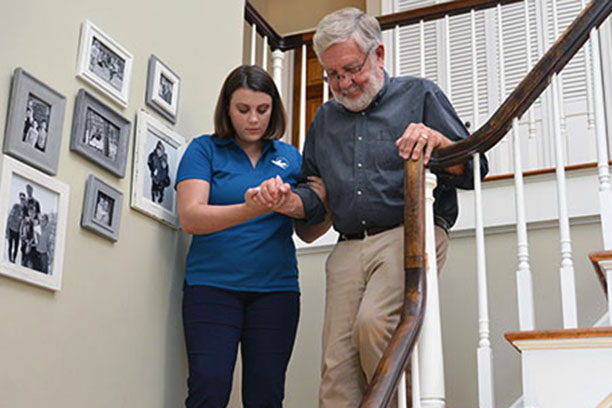 Fall Prevention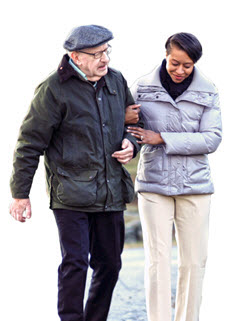 Visiting Angels Caregiver Team Helps Seniors Prevent Falls in Santa Clarita, CA
The older adult population accounts for seventy-five percent of falls that result in accidental death. One third of the older adults who experience a fall that results in a hip fracture and are hospitalized will die within a year. Falls not only affect the quality of life of the individual, but also influence the senior care giver and family. Health care costs for falls and rehabilitation average $70 billion a year! Even if the fall does not result in hospitalization, fear of falling becomes a major factor in how seniors live their daily lives. Fear of falling often leads to inactivity and loss of confidence. This, in turn produces a cycle of fear, loss of self-confidence, and inactivity, thereby decreasing the quality of life and increasing the risk of falls.
Dr. Roberta A. Newton, PhD from Temple University College of Health Professions in Philadelphia, PA, has been studying and researching why falls occur and how they can be prevented for many years. From the most overlooked areas of the home to making it easier to navigate through one's home, Dr. Newton has been right on target indicating points of interest and vulnerability in everyday life. Visiting Angels has partnered with Dr. Newton to fully utilize all of the in depth research she and her team have compiled in our everyday caregiving activities.
Our senior care mission is to increase the public awareness and importance of this sometimes overlooked issue. Are you aware that falls can often times be prevented? Visiting Angels can help show you how with a free in-home assessment. We also conduct free seminars across the country educating all interested individuals who want to make a difference in someone's life.
Contact your local Visiting Angels senior care franchised office to find out when and where the next Free Fall Prevention Seminar is taking place. Simply click here to locate your closest franchised office.
Here are a few helpful fall prevention tips:
Fear can lead to loss of self-confidence and inactivity.
Fear is not only associated with falling down, but also with getting up once having fallen.
Dispel this fear by making their everyday living space easier to manage.
Are assistive devices a part of your loved one's everyday life?
Get all the senior care information you need to help someone you love.
You can download our FREE Fall Prevention brochure by clicking here.
Serving Santa Clarita and the Antelope Valley, CA
Visiting Angels
SANTA CLARITA, CA
25115 Avenue Stanford #A101
Valencia, CA 91355
Phone: 661-263-2273
HCO #194700185