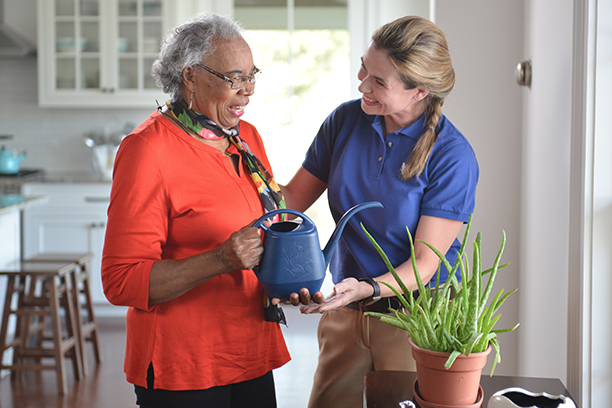 Proactive Non Medical Senior Care in Santa Clarita, CA
Visiting Angels recognizes the unique needs of each senior and works with your family to create a personalized, non medical senior care plan
Many families in the Santa Clarita area trust Visiting Angels to be their in-home non medical senior care agency. At Visiting Angels Santa Clarita, we strive to provide proactive senior care services that include regular follow up reports from our caregivers, continuous monitoring of care by our service coordinators, and open lines of communication at all times.
The Angel companions from Visiting Angels Santa Clarita understand how difficult it can be to trust the care of your loved one to a stranger. It takes a great deal of trust in the in home care agency you choose to go about your day and leave your loved one in the care of someone else. That's why we are so focused on providing frequent follow up and communication. Your caregiver from our non medical senior care agency will check in regularly with updates regarding your loved one's care. All our Angel companions are trained professionals. They will be on the lookout for any changes in your loved one's routine, health or emotional state that could be indicators of more significant concerns. Our caregivers are empowered to immediately bring any concerns to your attention.
In addition to the regular follow up from your caregiver, the service coordinators from our non medical senior care agency will be checking in regularly with your loved one. Our service coordinators will visit with your loved one on the phone and at home to ensure they are receiving the best possible care. When you choose Visiting Angels Santa Clarita as your non medical senior care agency, you won't have to worry about your loved one being lost in the shuffle.
If you have any concerns or questions about your loved one's care or if you need to modify their care plan, we encourage you to call our in home care agency direct. We are always happy to answer questions and talk about your concerns. We know your time is valuable and try to answer every call as it comes into our office. If you have to leave a message, we'll return that call within 15 minutes.
It's important you choose a non medical senior care agency that can meet your needs. You can count on Visiting Angels Santa Clarita to provide proactive care at all times. Call our in home care agency in Valencia to learn more about our elder care services.
Serving Santa Clarita and the Antelope Valley, CA
Visiting Angels
SANTA CLARITA, CA
25115 Avenue Stanford #A101
Valencia, CA 91355
Phone: 661-263-2273
HCO #194700185