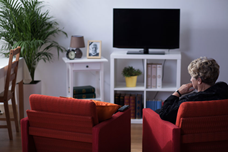 Combatting Social Isolation Among Older Adults
The ongoing COVID pandemic has vastly affected the senior population. Almost immediately, seniors were identified as at high risk for complications from the virus. Social distancing initiatives and stay-at-home orders left many older adults socially isolated. According to survey results collected by AARP, two-thirds of older adults reported experiencing social isolation, and 66 percent shared their anxiety increased during the pandemic. The survey also reported that more than half of adults over the age of 50 reported social isolation, defined as the absence of meaningful social relationships.

Older adults are especially at risk for social isolation and loneliness. Many older adults live alone, their social circles are smaller than younger generations, and some struggle with technology that could keep them connected. Socially isolated older adults are at greater risk of mental and physical decline than their more social counterparts. A recent study found that older adults' mental and physical health were negatively affected during the pandemic. Older adults primarily experienced anxiety, depression, poor sleep, and lack of physical activity while they were isolated.

It's important that seniors make a plan to combat social isolation. Here are four ways to promote social health and connectedness among the older adult population.
Nurture a Sense of Purpose
Older adults with a sense of purpose are less likely to be affected by social isolation. Purpose gives older adults a reason to get out of bed in the morning. In addition to providing a sense of structure for the day, having a sense of purpose can also rejuvenate the life of a senior. If you're feeling socially isolated, spend time nurturing your sense of purpose. Find ways to volunteer from the safety and comfort of your own home. Mentor the next generation or teach your neighbor how to start a garden. Consider adopting a pet or care for indoor plants. However you choose to nurture your sense of purpose will only help keep you from becoming socially isolated.
Foster Social Connections
Older adults need to continue to foster social connections. Although the pandemic might make getting together with family and friends, it's critical to prioritize some form of socialization. Continue to video chat. Continue to write letters and talk over the phone. Set a goal of connecting with at least one other person a day, even if it is just writing a letter. As more of your social circle receive a COVID vaccination, follow the Centers for Disease Control and Prevention recommendations on how to gather once fully vaccinated.
Attend Weekly Services at Places of Worship
Older adults who attend places of worship regularly benefit from social connections that occur before, during, and after the service. In addition to staying connected to a higher power, older adults also benefit from the sense of purpose weekly worship provides. Places of worship also offer volunteer opportunities and opportunities to socialize with others through spiritual study throughout the week. If you're out of the routine of attending weekly church services, make it a priority once again. If your place of worship is open, consider attending in person. If you're hesitant about integrating with fellow congregants, engage with others during an online service.
Engage Your Mind
Another way for older adults to combat social isolation is to engage their minds every day. It can be tempting to sit in front of the television most of the day. However, the more inactive you are, the more likely you are to feel socially isolated. Combat inactivity by doing something that requires you to use your brain every day. Revisit an old hobby, take a class to learn something new, try a new recipe, or read a nonfiction book. Participate in senior programs offered by your local library or parks and recreation department. Learn to use social media to foster social connections with family and friends. Engaging your mind will not only improve your well-being and cognition, but such activities will also boost your mood.

A final way to combat social isolation is to partner with Visiting Angels of Santa Clarita. One of the many senior home care services we offer is elderly companion care. Our comprehensive home care is customized for seniors based on their individual needs and preferences. Our dedicated and reliable caregivers have already helped thousands of seniors live safely and happily in the comfort of their own homes while giving their families peace of mind. If you are struggling with loneliness or social isolation, allow us to connect you with a compassionate companion caregiver. Please contact us by calling 661-263-2273 and schedule your free consultation today.