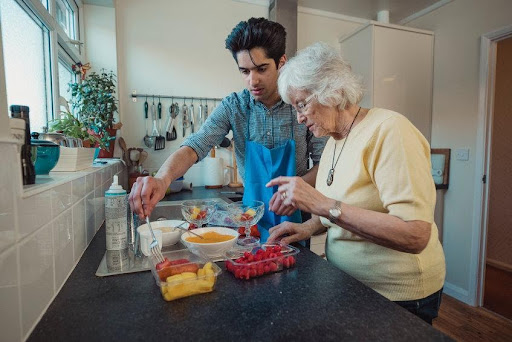 Food Safety Tips for Seniors
Food poisoning can happen to anyone at any age. Symptoms include severe abdominal cramping, vomiting, diarrhea, dehydration, and overall weakness. These symptoms can appear within hours of consuming contaminated food, or they can begin days or weeks later.
Older adults have a higher risk of suffering from food poisoning and experience food poisoning more severely. This is in part due to age. Older immune systems do not respond as quickly and as effectively to germs that cause food poisoning. While food poisoning can be mild and resolve itself without treatment, older adults have a higher risk of hospitalization because of having food poisoning. According to the Centers for Disease Control and Prevention, approximately half of older adults over the age of 65 are hospitalized as a result of food poisoning.
The good news is that food poisoning can be prevented if proper precautions are taken. Here are five food safety tips for seniors.
Wash Your Hands
Food safety begins with proper hygiene. Older adults should always wash their hands properly before and after preparing food. This means wetting their hands, applying soap, scrubbing for 20 seconds, rinsing, and drying with a clean towel. In addition to washing their hands, it's important that food preparation happens in a clean space, with clean utensils. Wipe counters with soapy water or a disinfectant wipe before cooking. Ensure all cutting boards, knives, bowls, and other utensils are clean before using them.
Separate Raw Foods from Other Foods
Raw meat, poultry, fish, and shellfish carry certain bacteria. While this bacterium is destroyed when thoroughly cooked, it can cross-contaminate other foods. Seniors should practice separating raw foods from ready-to-eat foods to prevent cross-contamination. When grocery shopping, put raw meats in a plastic bag and keep them separated from other foods in your grocery cart. Bag raw meats in their own, separate grocery bag to prevent germs from spreading on your way home. Store raw meats at the bottom of your refrigerator, away from other foods, such as produce.
Refrigerate Foods Immediately
In addition to separating raw foods from other foods, it's important for seniors to refrigerate, or freeze, perishable foods as soon as possible after purchase or preparation. This means seniors should plan their errands and stop at the grocery store last so that perishable foods don't go bad on the way home. Aim to refrigerate or freeze foods within two hours of purchase. If you enjoy leftovers, be sure to put prepared food away within two hours as well. When the temperatures are above 90 degrees, foods need to be put away within one hour of purchase or preparation.
Thoroughly Cook Foods
Raw and undercooked meat and poultry carry harmful bacteria that can cause food poisoning. The best way to destroy these germs is to thoroughly cook meat and poultry to a safe internal temperature. Seniors should use food thermometers to check before consuming. Food Safety provides guidelines for minimal cooking temperatures and includes temperatures for leftovers or casseroles.
Throw Out Suspicious Foods
Lastly, seniors should adopt the policy to discard suspicious foods instead of consuming them. If you aren't sure how long a food has been sitting out or are questioning if the food has been safely prepared, throw it out. Adults over the age of 60 begin to experience loss of taste and smell. Seniors may not be able to distinguish whether a particular food has spoiled just by sniffing it. Taking even one bite of spoiled food is enough to cause food poisoning in an older adult. It's safest for seniors to throw out questionable foods. It's also important for seniors to clean out their refrigerator and freezer regularly and discard leftovers or other foods that have spoiled.
If you are an older adult who needs help in the kitchen, Visiting Angels of Santa Clarita is here for you. We are a licensed, bonded and insured senior home care agency. All our caregivers have participated in an extensive interview process that includes reference and background checks. Our focus is providing care with dignity and respect while keeping seniors safe in their preferred home environment. Our professional caregivers can assist you as you prepare meals for the week. They can also examine your refrigerator and help you discard foods that may have spoiled. You can find top-quality senior care services at Visiting Angels Santa Clarita. Please contact us today by calling 661-263-2273.