Taking Care of the Family Caregiver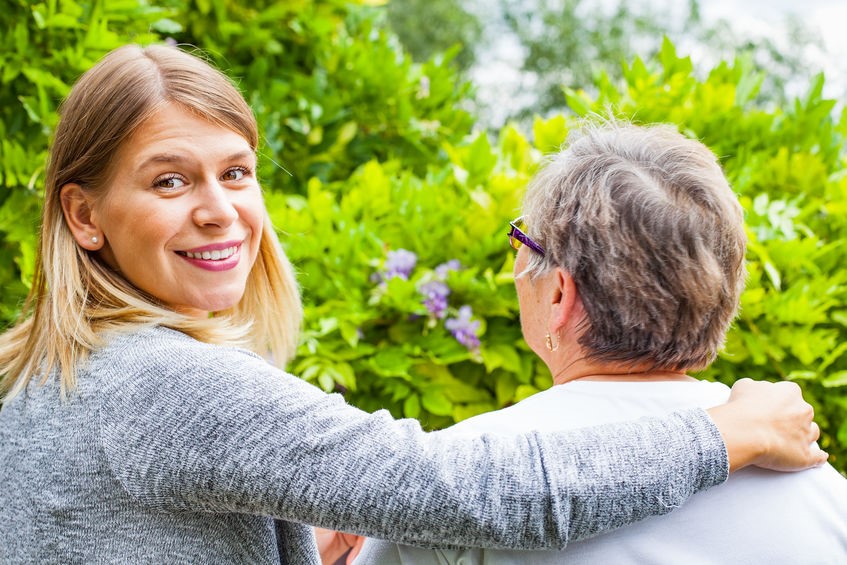 If an aging loved one reaches a point where they experience issues managing their health and well-being, often a family member steps into the role of caregiver. This can happen suddenly, as in the case of a stroke, or more slowly, as chronic health conditions progress over time. Either way, the family member becomes a caregiver and risks losing their identity as a daughter, son, niece, nephew, or friend. Many family caregivers report feeling ill-equipped to manage their aging loved one's care needs. They don't know where to turn for help and often feel neglected by their own family members. As a result, they end up taking on too much themselves, thus neglecting their own needs in order to meet the needs of their aging loved one.
November is National Family Caregivers Month, which recognizes the dedication of family members who provide care to their loved ones on an ongoing basis. Family caregivers balance the needs of their loved one and the needs of their own family. They often take care of household chores, run errands, schedule doctor appointments, and oversee financial matters. Family caregivers often sacrifice their personal time which can easily lead them to experience caregiver burnout. That's why it is essential that other family members support the family caregiver. As the holidays approach and the days only grow busier, here are a few ways to take care of the family caregiver.
Give Them Time Off
Everyone deserves a vacation from time to time. Time away allows the family caregiver to recharge and can even strengthen the relationship between family caregiver and family member. When was the last time that the family caregiver in your family had a break? Support the family caregiver by giving them time away. Arrange for other siblings, family members, friends, or even an in-home care company to take over the care responsibilities while the family caregiver steps away for a week. Give the family caregiver permission to step away too. Often, a family caregiver will continue to neglect their own needs because they feel guilty stepping away. Whether everyone pitches in to send the family caregiver away for a long weekend, or the family caregiver uses the break to prepare for the holidays, time away will help prevent caregiver burnout.
Connect with a Support Group
Another way to take care of the family caregiver is to encourage them to connect with a support group. Find a group that share a common concern, such as Alzheimer's or dementia, aging parents, or a group focused on the role of the family caregiver. Plan to attend the group with the family caregiver, so that you can hear firsthand their own struggles and know how to support them even more. Support groups are a wonderful way to meet other individuals who are facing a similar situation. They provide an outlet to vent frustrations and can connect you with an abundance of resources. Many support groups also provide education. Look for a support group at your local hospital, church, or library.
Establish Healthy Boundaries
Caring for an aging loved one becomes more difficult and complicated as their health declines. As mentioned above, many family caregivers fell into the role with little notice. They haven't a clue as to how to take back their own lives as the needs of their aging loved one grow more demanding. Resentment towards other family members who don't help out can set in for the family caregiver. Likewise, family members who aren't involved in care tasks can resent the way the family caregiver manages such tasks. In order to prevent a family feud and alleviate assumptions, establish healthy boundaries between family caregiver, family members, and the one receiving care. Hold a family meeting to discuss the care needs and let the family caregiver say no to needs they can no longer meet. Then, find alternative ways to manage the unmet needs. Maybe another family member can do the grocery shopping or laundry. Maybe you agree to hire a cleaning service to care for the home. Perhaps it's time for professional in-home care to provide bathing assistance, so that privacy and dignity are respected.
Look After Their Own Needs
Everyone tends to look to the needs of the aging loved one, and those needs are important. But what's often missed is the needs of the family caregiver. Bring them a meal so they can enjoy family dinner. Offer to be the escort to the next doctor's appointment so that the family caregiver can have a break. Show up unannounced with cleaning supplies and clean the family caregiver's home while they're running errands with your aging loved one. Write them a thank you note, give them a special gift, ask them how they're doing. Appreciate them instead of criticizing the way they provide care. Family caregivers desperately need encouragement; it can make the difference between feeling burnt out or feeling calm.
Visiting Angels of Santa Clarita understands the demands of caring for an aging loved one. We are here to support the role of the family caregiver. Whether you are looking for consistent in-home care to assume the caregiving duties, or you just need a week away to recharge, our Angels are ready to step in where help is needed. When you choose us for your in-home care needs, we'll work with you to create a plan of care that addresses your loved one's individual needs. Please contact us today to set up your free consultation and to learn more about our elderly in-home care services.