Thoughtful Gifts for Seniors
Another holiday season is upon us, meaning that many of us are in search of the perfect gift for that special someone in our lives, including seniors. When it comes to shopping for older adults, finding that perfect gift can be difficult. What do you get someone who has everything, or perhaps doesn't have a lot of space now that they've downsized? What do you get someone who says they don't want any gifts at all?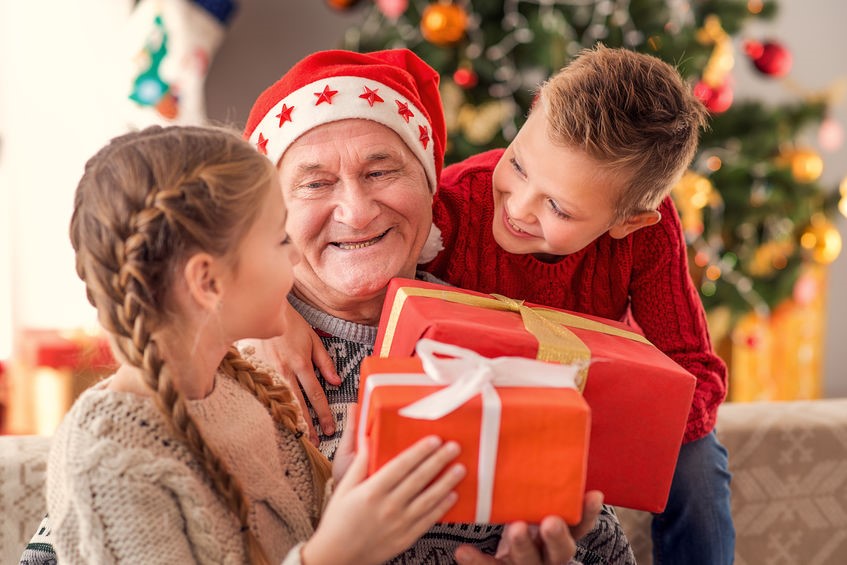 We would love to help you find that perfect gift for the senior in your life. You're bound to find something on our list that will show that special senior in your life just how much they mean to you. As you think through your holiday shopping this year, here are a few thoughtful gift ideas.
Family Memory Album
Put together a photo album with recent pictures of family, including all of the grandkids. Many of us forget that although we share updates on social media sites, our aging loved ones may not always see those images. Even if we text photos, seniors like to have a tangible copy that they can enjoy over and over again. If you don't have a lot of time, print photos and place them in a small album. Utilize a digital photo book service, such as Chatbooks, that instantly creates a book using your Instagram posts.
Personalized Calendar
Another fun way to display family photos is to create your own calendar. There are a variety of websites that offer this service. What we like most about this gift idea is that you can include family birthdays and add them to the appropriate date and month. You can also include important dates, such as an upcoming wedding, family vacation, or other events you want to be sure your loved one remembers. Once the year is over, keep the photo portions of the calendar and place them in a scrapbook to enjoy beyond the year.
Around the House
A favorite gift to give seniors often revolves around comfort. Many seniors receive slippers, cozy socks, or new pajamas. If you're considering gifting these items, look for non-slip house shoes to help prevent a fall. Avoid slippers without heels or slipper-socks without a grip on the bottom. If you're seeking to purchase comfortable clothes, consider their dexterity. Look for items that are easy to put on and take off. Think about how you can help your loved one build layers into their wardrobe, so they don't overheat when the weather is hot.
Subscription Services
Another great gift idea that gives throughout the year is a subscription service. There is a plethora to choose from, so select something that relates to your loved one's interests. Do they like to cook? Consider a meal-delivery kit, such as HelloFresh or Blue Apron. Did they love to travel? Help them revisit their favorite memories through Try the World. Do they love to read? Sign them up for My Coffee and Book Club. Are they interested in gardening or games? Consider Horti or Escape the Crate. Do they need a little more comfort in their lives? Try the Hygge Box which is filled with items to help them unwind and relax. Does your aging loved one have memory loss or dementia? Subscribe them to the magazine, Reminisce, and help them engage through nostalgia.
The Big Spenders
Finally, if you're a big spender and enjoy giving big gifts, consider outfitting their home with smart technology. Give them the gift of a smart speaker, a smart thermostat, smart lightbulbs, or smart plugs. Help them feel secure by gifting them a smart camera that they can install outside their front door. Help them stay in touch with long-distant family by gifting them a smart video calling device. Surprise them with the Skylight frame, which allows you to email photos directly to the device, from anywhere in the world.
We hope we've inspired you with a few ideas for the senior in your life. If you're looking for another idea, consider the gift of senior home care services, provided by Visiting Angels of Santa Clarita. We are a leading provider of in-home senior care services, offering exceptional assistance for seniors throughout Santa Clarita area. Our compassionate caregivers assist seniors with a variety of everyday activities, including bathing, grooming, personal hygiene, meal preparation, and light housekeeping. Our caregivers also provide companionship to the lonely senior, giving them something to look forward to when their family is away. To learn more about our senior home care services, please contact us today by calling 661-263-2273.
Visiting Angels Santa Clarita, CA
661-263-2273
https://www.visitingangels.com/santaclarita/home