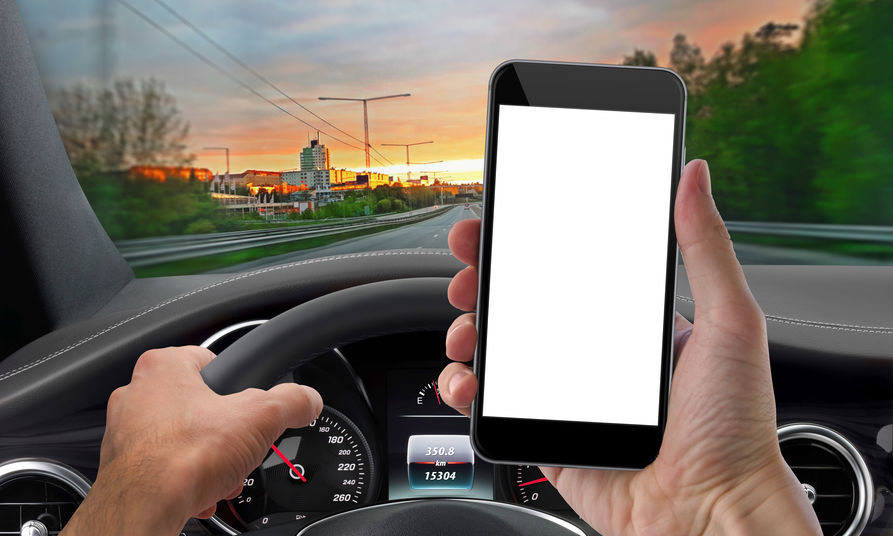 What Older Adults Need to Know About Distracted Driving
Many adults think about Millennials and Generation Z when they hear the phrase "distracted driving." After all, the younger generations have been immersed in technology since their childhood. Older generations assume that the younger generations are more likely to multitask while driving. However, according to a recent report published by the AAA Foundation for Traffic Safety, older adults are more likely to be distracted while driving, especially when using in-vehicle technology.
April is Distracted Driving Awareness Month. The National Safety Council wants all drivers to remain safe and focused while behind the wheel. With that in mind, here's what older adults need to know about distracted driving.
Three Main Types of Distraction
There are three main types of distraction behind the wheel: visual, manual, and cognitive.
Visual distraction is taking your eyes off the road for any amount of time. Common visual distractions include looking at directions, searching for something within the car or one's purse, changing the radio station, adjusting temperature controls, putting on makeup, or reading a text message.
Manual distraction is taking one or both hand(s) off the steering wheel while driving. Reaching for an item, grooming or applying makeup, using a cell phone, eating or drinking, and adjusting the temperature or stereo system are all examples of manual distractions.
Cognitive distraction is taking your mind off driving. If you've ever driven home from the grocery store and not realized how you got there, you've experienced cognitive distracted driving. Other cognitive distractions that older adults face include mobile devices, in-vehicle technology, other passengers, and written materials, such as directions or maps.
In-Vehicle Technology Often Causes More Distraction
Newer vehicles today are loaded with gadgets and other in-vehicle technology. From built-in GPS to Bluetooth technology, vehicle manufacturers are doing their part to negate distracted driving. However, many older adults find in-vehicle technology confusing or frustrating. Audio commands and touchscreens aren't always older-adult friendly. While using in-vehicle technology, older adults take their eyes off the road an average of eight seconds longer than younger drivers. Older adults should take the time to learn their vehicle's built-in technology while safely parked in their driveway. If the technology continues to be confusing, older adults should turn it off entirely and focus solely on driving.
Distracted Driving Becomes More Dangerous with Advancing Age
Older adults face certain conditions simply due to age. They can have arthritis, weakened muscles, and stiff joints. Their reaction time also slows, which affects their ability to drive. According to a study by Northwestern University, advancing age significantly affects driving performance when the driver attempts to complete a secondary task. The study confirms that older adults do drive differently than middle-aged and younger drivers. Therefore, they should refrain from multitasking while driving.
Tips to Drive Safely as an Older Adult
The good news is that older adults can continue to remain safe behind the wheel as long as they take certain precautions. Staying physically active can help older adults maintain their strength and flexibility to steer a vehicle confidently. Older adults should always put away their cell phone so that it's not a distraction. Today, many smartphones can detect when you're driving in the car and automatically silence all texts and calls; this is a great option for seniors. Sticking to familiar routes and driving when the weather conditions are good can also eliminate distractions. Finally, all older adults need to schedule regular vision, hearing, and physical exams to ensure they are in good shape to operate a vehicle.
There is another way to prevent distracted driving. Consider the senior home care services provided by Visiting Angels of Santa Clarita. Our competent and reliable caregivers can escort you on errands or to and from your next doctor appointment. They can assist you in the store or to the waiting room and ensure you arrive back home safe and sound. If driving is becoming too burdensome for you, you don't have to remain stuck at home. Our caregivers can take you where you'd like to go and keep you company along the way. To learn more about our comprehensive approach to senior home care, please contact us today by calling 661-263-2273.