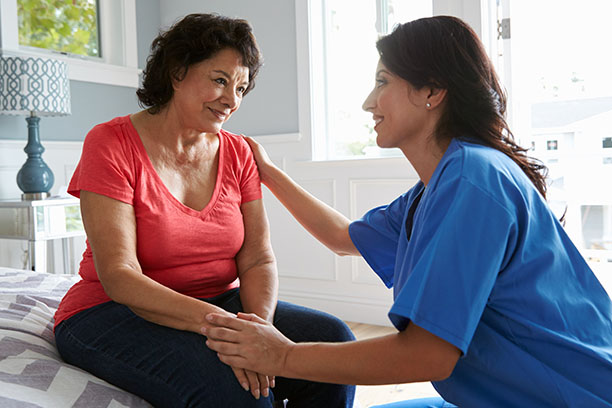 Dementia Care in Santa Fe
Living with dementia comes with a nearly endless stream of challenges, both for a senior and for their loved ones. Significant support is necessary in order to create the kind of environment that helps both go on leading comfortable and happy lives. Dementia care from Visiting Angels® Santa Fe does exactly that. By providing care that is as compassionate as it is skillful, we help make life easier and more enjoyable for dementia sufferers and their loved ones.
How Dementia Care Helps Seniors in Santa Fe
All our dementia care services at Visiting Angels Santa Fe are guided by our core principle of keeping the care in caregiving. That means that whether we're helping them to fasten buttons, get in and out of bed, or remain calm in their environment, we always put your loved one's dignity first. At the heart of it all are our Santa Fe caregivers whose sensitive approach to caregiving helps seniors get the most out of their care.
Some of the ways dementia care can help support your loved one in Santa Fe include:
Providing a steady hand to guide them through tasks which limited mobility or dexterity may have made too difficult
Offering comforting, emotional support and assistance during anxious periods, angry outbursts, and other emotional events
Insuring that they have the medical supplies and resources they need by coordinating deliveries and running errands with them
Augmenting their medical treatments and programs with non-medical support including medication reminders and meal preparation tailored to their needs
Bringing regularly scheduled relief and support to family caregivers who need time to rest and tend to their own needs without worrying about their loved one's care
Getting Started with Dementia Care in Santa Fe
Maybe you're ready to bring a companion caregiver into your loved one's life, or maybe you still have questions. Whatever the case may be, it's never too early to speak to an expert about your dementia care options. Visiting Angels Santa Fe offers free, in-home consultations to families in Española, Bernalillo, Corrales, San Juan Pueblo, Taos, Los Alamos, and Santa Fe to make learning more about our care as easy and stress-free as possible. It's a chance for you to sit down with one of our Santa Fe-area experts to learn all about your options. There's no obligation at all, so why wait?
To learn more about dementia care, call Visiting Angels Santa Fe today and book a free, in-home consultation.
Serving Santa Fe, Taos, Espanola, Los Alamos, Bernalillo, Corrales and Surrounding Areas
Visiting Angels
SANTA FE, NM
411 St Michaels Dr #3
Santa Fe, NM 87505
Phone: 505-417-6771