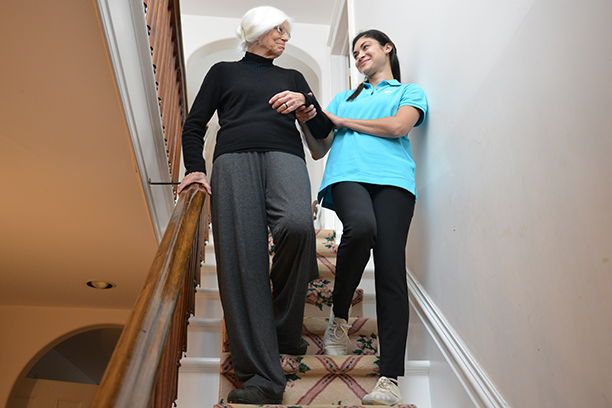 What Makes Us Different
We individualize care plans to meet the specific needs of our clients and place caregiver's experienced in those specific care tasks to meet the client's needs.
We allow our client's to select their caregiver, making the homecare process much more comfortable and easier for our clients and their families.
When you call Visiting Angels you speak to the owners Kevin and Suzanne.
We use a Telephony System to monitor timely care, and are alerted 24 hours a day if a caregiver is six minutes late. The system is integrated for accurate billing.
We frequently check the quality of care by performing unannounced supervisory visits.
Our caregiver's are Georgia Licensed Certified Nursing Assistants and are employees not contractors. Each is fully bonded and insured.
Our caregiver's are screened thoroughly by previous employment reference checks, many in depth interviews, drug testing, Georgia Department of Motor Vehicle Records, as well as Homeland Security. We utilize the most accurate and comprehensive criminal background checks available.
Our caregiver's are thoroughly trained and tested in care giving skills, Alzheimer's & Dementia, Hippa, infection control and blood borne pathogens, elder abuse and neglect, and caregiver roles and responsibilities.
Our caregiver's attend an extensive orientation program so as to know what is expected and how to perform their duties for needs of the client.
Service satisfaction surveys are sent to clients and caregiver's on a regular basis to help us improve our quality of services.
We Offer Discounts to our Clients and Their Families, From J.C. Penney Optical, Sears Automotive, Beltone Hearing Aids, Freedom Alert Personal Emergency Response System, Care Giver Market Place, Rayovac Hearing Aid Batteries, and Care Giver Partnership, through our Family Advantages Program.
We constantly update physicians, social workers, trust officers, and families.
We answer our phones after business hours and do not use a generic answering service. Calls are returned within 15 minutes.
We educate and inform families, reducing their anxiety and stress. Empowering them to make improved quality of life decisions.
Visiting Angels in Savannah, Georgia provides senior care in the following areas of Chatham County GA. Abercorn Heights, Avon Park, Avondale, Bloomingdale, Carver Village, Cedar Grove, Chatham City, Clearview, Daffin Heights, Edgemere, Fairfield, Fairway Oaks, Fernwood, Fleetwood, Forrest Hills, Fort Screven, Garden City, Georgetown, Gordonston, Green Acres, Groveland, Henderson, Isle of Hope, Kensington Park, Lamara Heights, LePageville, Magnolia Park, Montgomery, Parkwood, Pine Gardens, Pooler, Port Wentworth, Ridgewood, Rivers End, Rossignol Hill, Savannah, Shirley Park, Skidaway Island, Staley Heights, Sunset Park, Tatumsville, The Landings, Thunderbolt, Tybee Island, Vernonburg, Victory Heights, Wheat Hill, Whitemarsh Island, Wilmington Island, GA.
Serving Savannah, Richmond Hill, and Effingham County Georgia
Visiting Angels
SAVANNAH, GA
6205 Abercorn St #101
Savannah, GA 31405
Phone: 912-335-1020