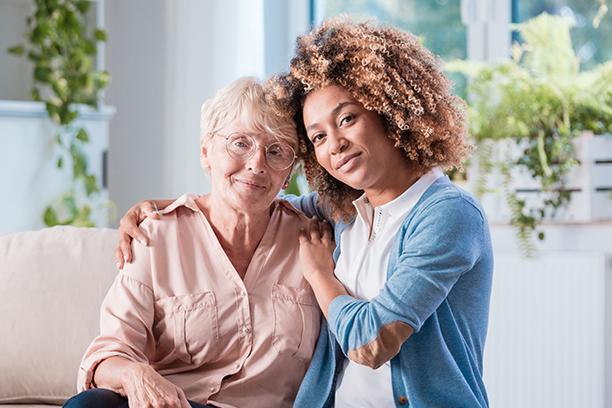 How We Assist with Aging in Place in Scottsburg
When your loved one has access to the support they need at home, aging in place can become a reality. The home care services from Visiting Angels® Scottsburg are designed to give elderly adults high-quality assistance that enables them to remain in familiar surroundings. We match seniors with compassionate care providers who assist them with their daily routines and provide essential social interaction.
AARP has reported that the vast majority of elderly adults, 9 out of 10, would prefer to live at home for as long as possible. However, as we age, we often encounter difficulties related to mobility, strength, coordination, and motivation. This can make day-to-day activities and basic tasks a challenge, and can even pose a safety risk. As a result, seniors commonly lose their independence when they do not have access to in-home care.
The Importance of Aging in Place
Elderly adults who have the freedom to continue living at home while growing older benefit in several ways. For instance, they can take part in the daily rituals and social activities that bring meaning to their lives. They can also enjoy living in an environment that feels safe, comfortable, and familiar. These aspects of aging in place can be crucial to seniors' quality of life and can help them maintain their emotional well-being in difficult life chapters.
In-Home Care vs. Assisted Living
Receiving care in an assisted living facility is often viewed as an alternative to in-home care. One of the biggest differences between these two approaches is that a senior must move away from home to experience care in a nursing home or senior care facility. They must also adjust their lifestyle to fit the schedule and rules of the facility. As a result, they lose a significant degree of autonomy when making this move.
How We Help Families in Scottsburg
We can help your loved one benefit from professional care while remaining at home throughout their golden years. Our customized care plans are built to suit each senior's unique lifestyle preferences and care concerns. We also make customized caregiver matches to promote a positive experience of aging in place that enables seniors to enjoy interacting with someone who is dedicated to helping them live life to the fullest.
Would you like to learn more about the benefits of aging in place and how our services can help? Call Visiting Angels Scottsburg to request a free consultation in Scottsburg, Lexington, Chelsea, Madison, or a community in the surrounding areas!
Serving Jefferson, Scott, Eastern Washington Counties and the Surrounding Areas
Visiting Angels
SCOTTSBURG, IN
557 W, McClain Ave
Scottsburg, IN 47170
Phone: 812-414-7878