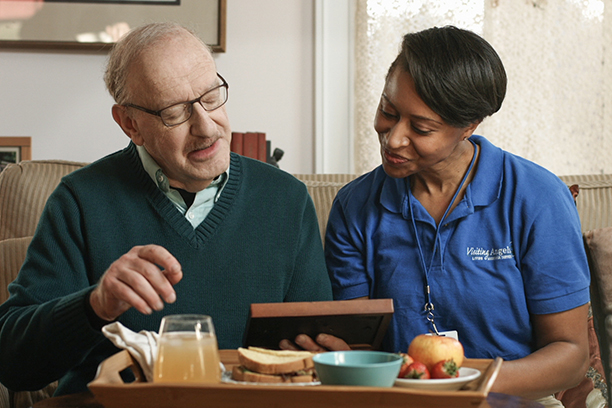 Personal Care in Scottsburg
Do you have a loved one whose difficulties with mobility and coordination are affecting their ability to live independently? Elderly adults who are dealing with a challenging physical disability or chronic health condition don't have to give up their life at home in order to receive care. Personal care services from Visiting Angels® Scottsburg are provided for seniors in the comfort of their home environment, giving them the opportunity to enjoy living in familiar surroundings while benefiting from the professional support they need to stay safe and content.
What is Personal Care?
Personal care is one of the most common types of at-home senior care, and is sometimes referred to as private care or private duty care. Generally, these services are dedicated to helping individuals who have been diagnosed with chronic conditions or whose mobility is limited by the effects of a physical disability or age-related disorder. Care is designed to provide these individuals with customized support to promote their safety and help them live life to the fullest despite the obstacles they face.
The main factor that distinguishes personal care from companion care, another common type of senior home care, is help with activities of daily living, referred to as ADLs. ADLs include basic tasks such as getting dressed, grooming, bathing, and using the toilet, activities that are a requirement for day-to-day life. Personal care providers can also offer support with a wide range of other routines and daily tasks to help the senior maintain their quality of life at home in the Scottsburg area.
Some of our most common services in this category are listed below:
Providing social interaction and taking part in favorite pastimes
Giving timely reminders to take medications per doctors' instructions
Offering a helping hand with bathing or showering routines
Assisting with getting dressed and grooming activities
Supporting seniors with walking and general mobility
Running errands, doing grocery shopping, and going to the pharmacy
Cooking meals and doing light chores around the house
Getting Started with Care in Scottsburg
Is personal care the right choice for your loved one? We can help determine the best set of services for their needs during a no-cost consultation that is free of any obligations to continue with care. Our helpful staff will answer your questions about getting started and pave the way to a personalized care plan including the full range of services your loved one requires.
Set up a personal care consultation in Scottsburg, Lexington, Chelsea, Madison, or a town in the neighboring areas by calling Visiting Angels Scottsburg today!
Serving Jefferson, Scott, Eastern Washington Counties and the Surrounding Areas
Visiting Angels
SCOTTSBURG, IN
557 W, McClain Ave
Scottsburg, IN 47170
Phone: 812-414-7878