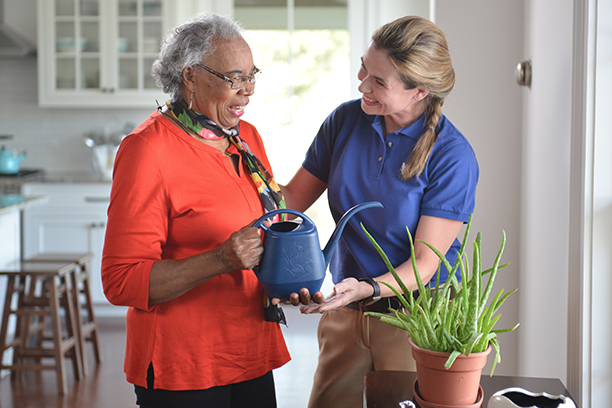 Long Distance Elder Care in Scottsburg
Elder Care for Families Separated by Long Distances
Today, it's not uncommon for families to live in different cities, counties, states, and even countries. Oftentimes, regular conversations over the phone and frequent visits are enough to bridge the gap that distance presents. However, when a loved one is in sudden need of elder care, you may feel at a total loss about how to help them. Visiting Angels® Scottsburg is here to assist you with arranging the care they need no matter where you currently reside.
With our long distance senior care services, it's easy to find professional home care providers in the Scottsburg community. Our personal approach to care will allow your loved one to receive support according to their preferences and unique needs. Moreover, you can count on our team to involve you in every step of this process so you can maintain total peace of mind about your loved one's care.
Our Approach to Elder Care
We've taken a number of steps to adjust our senior care services to fit the needs and circumstances long distance families encounter. Here are some of the ways we will modify the care process to suit your family's situation:
We make consultations easier for long distance families. We can include you in your loved one's free care consultation over the phone or through email, ensuring you are completely caught up on all the options available to them.
We embrace your participation in the care planning process. While developing your loved one's unique care plan, we'll utilize your input and feedback to make it just right.
We maintain frequent contact with family members. You'll always be kept in the loop about your loved one's care through regular updates from our team that include notes about your loved one's overall well-being and any changes that arise.
We offer to check in with seniors between care visits. We work to ensure seniors don't feel isolated by conducting drop-in visits or calling to check in with them in between regularly scheduled visits from their caregiver.
We are easy to contact in an emergency. You can contact our after-hours phone line and know that we will get back to you in fifteen minutes or less.
To learn more about arranging elder care in Scottsburg, Lexington, Chelsea, Madison, or a nearby community from afar, just get in touch with Visiting Angels Scottsburg!
Serving Jefferson, Scott, Eastern Washington Counties and the Surrounding Areas
Visiting Angels
SCOTTSBURG, IN
557 W, McClain Ave
Scottsburg, IN 47170
Phone: 812-414-7878