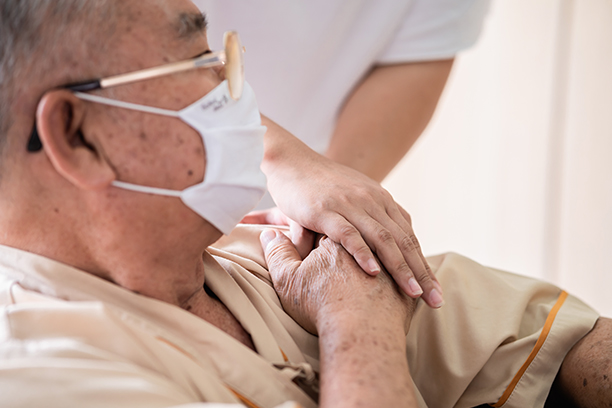 Find Peace of Mind with Constant Companion from Visiting Angels of Scranton

Constant Companion is a new virtual caregiver technology that uses Amazon Alexa to allow seniors have the independence they crave while giving family members the reassurance they need.
Reach out to us today for a FREE Live or Virtual Demo!

A Virtual Caregiver That's There for You 24/7
Purposeful and meaningful living improves health and resiliency. Constant Companion from Visiting Angels gives you a better way to stay connected to family, friends, and interests that bring you joy.
Your Constant Companion system comes with a voice-operated "Call for Help" medical alert feature that gives you immediate access to an urgent response agent who can get you the help you need. There are no buttons to push, no finding a phone, no numbers to remember. So, for those times when you are alone, you don't have to worry about how you will get help. Plus, it is fun, entertaining, and easy to use. Just speak naturally. The virtual care assistant does the rest.
3 Solutions for 24/7 Peace of Mind
A breakthrough speaker phone system.
Use the voice call feature to contact anyone on your built-in contact list. Be connected to a son, daughter, friend, or caregiver from anywhere in the room using just your voice. No need to get to the phone.
A voice-activated medical alert.
Simply say the "wake word" and ask the voice assistant to call for help. Instantly be connected to an emergency response agent. Connect to our urgent response center 24/7. No wearables are required.
Your choice of the world's most popular voice assistants.
Our smart speakers are always ready with fun and useful skills. Just ask! Internet searches, games, and music are built in. Reminders, timers, and lists are some of the ways your smart assistant can help.
Call for Help with Just Your Voice
Have you wondered what could happen if someone can't reach the phone or a push-button when assistance is needed? In 83 percent of emergencies, people who subscribed to wearable panic buttons did not have them in reach when needed - rendering them useless. Now, you can ask for help, anytime, from anywhere in the home with just your voice through our virtual caregiver method.
Discover how older adults nationwide are able to continue to live a more safe and independent life with home care and a Constant Companion system. Make Constant Companion part of your plan for staying in your home.

What Can a Smart Speaker Do For You?
24/7 call for help. Voice-activated connection to urgent response agents.

Connection to family and friends. Make calls to your personal circle without a phone.

Daily check-in calls. We'll call your loved one daily and email the results.

Set reminders. From medication reminders to reminders for appointments, custom reminders can be set up.

Companionship and fun. Music and news preprogrammed, and games designed for seniors.
Contact Visiting Angels of Scranton to Get Started!
If Constant Companion sounds like a service that can benefit your senior loved one - and your peace of mind! - contact Visiting Angels of Scranton today. We'll be able to set-up the virtual assistant, schedule daily calls, and make sure your family is getting the support the assistance you need.
Simply call our office at today at 570-565-0210 - we're happy to help!
Constant Companion Overview (PDF)
Serving Scranton, Waverly, Pittston, and surrounding areas | Lackawanna, Wyoming, Luzerne, and Columbia Counties.
Visiting Angels SCRANTON, PA
2200 Stafford Ave #600
Scranton, PA 18505
Phone: 570-565-0210
Fax: 570-800-5269