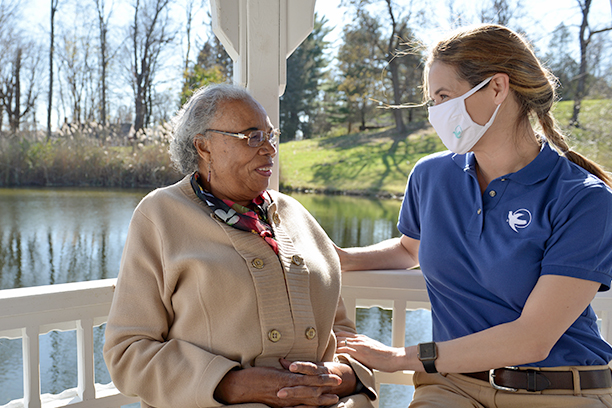 Our Staff
SUSAN KAHLAU – Owner and Director
Owner and Director of Visiting Angels Forty Fort and Scranton Offices, a graduate of Bloomsburg University, Susan has spent the last 13 years helping to improve the quality of life for seniors both in the community and in the home by focusing on proving the highest quality of care and accountability. The goal of her business is to build long relationships between families and their caregivers. This results in improved quality of life among seniors and a healthier work-life balance among their families.
RENEE, LPN Operations Manager- Renee's role is to oversee all aspects of Visiting Angels Operations. "My goal is to achieve operational excellence to ensure that our clients' needs are met and they remain comfortable in their home with a caregiver that meets their individual needs." Renee is also a nurse and has worked in Healthcare since 2008 when she began her career as an "Angel" with Visiting Angels.

ALICE - Marketing Liaison/Client Care Specialist has been employed in various positions in the Healthcare Industry for over 15 years including office manager, scheduler, billing specialist, and recruiter. Alice started her career with Visiting Angels in 2017. Her Goal is to ensure a smooth transition for our clients and families. Alice is the mother of 2 grown children and has one beautiful granddaughter she adores.
KRISTA - Field Staff Trainer has been a CNA for 18yrs. She has worked in hospitals, nursing homes, clinics, and private duty throughout her career. She just started her career at Visiting Angels in July. "I have been actively involved in the Walk to End Alzheimer's for the past 4 years." Krista has first hand experience with caring for a very close family member who suffers from Alzheimer's and dementia. Krista has one daughter and two grandchildren that she absolutely adores.
KATIE - Care Scheduler Supervisor has twenty five years experience in the healthcare Industry. She started her career as a Direct Services Provider, caring for adults with developmental disabilities. Throughout her career, Katie held the following positions: Direct Support Professional, Lead Staff and Program Manager for the large community homes. Katie was also an active member of the Safety Committee. She came to Visiting Angels as a Care Scheduler in February, 2019 and was promoted to Care Scheduler Supervisor in 2020. "I plan to continue to achieve the goals I set for myself. I will enjoy helping with building relationships between the clients and their caregivers."
KRISTEN - Care Scheduler Before coming to Visiting Angels in 2018, Kristen had been working in child care. Kristen started her career at Visiting Angels as a caregiver and worked in the field for 2 ½ years before becoming a Care scheduler. "My goal at Visiting Angels is to make sure every client receives the care they need." Kristen is married and has two beautiful children.

DANIELLE - Care Scheduler received a Bachelor's Degree in Human Development and Family Studies from Penn State University. She worked for Child Protective Services for 8 years prior to coming to Visiting Angels in September of 2020. "My goal at Visiting Angels is to ensure that the Caregivers have the appropriate support/trainings so our Clients receive the best care possible!" Danielle has three children.

SARA - Care Scheduler has 8 years experience working in healthcare. Sara began working in the mental health field in a psychiatric hospital as a Mental Health Technician and then as the Admissions Coordinator. She began her career at Visiting Angels in April 2021. My goal is to build strong relationships with both clients and caregivers to ensure the best quality care. Sara is married with one daughter.
KATHY- Marketing Manager with over 25 years of Marketing and Advertising experience. Kathy held positions as National Advertising Manager, Marketing Manager and Designer at a local newspaper where she worked for 19 years. Before joining Visiting Angels, she worked as a Television and Digital Accounts Executive. Her goal is to create awareness of the great services Visiting Angels provides and why you should choose Visiting Angels as a home care agency or an employer.
Serving Lackawanna, Wyoming, Luzerne, and Columbia Counties.
Visiting Angels SCRANTON, PA
2200 Stafford Ave #600
Scranton, PA 18505
Phone: 570-565-0210