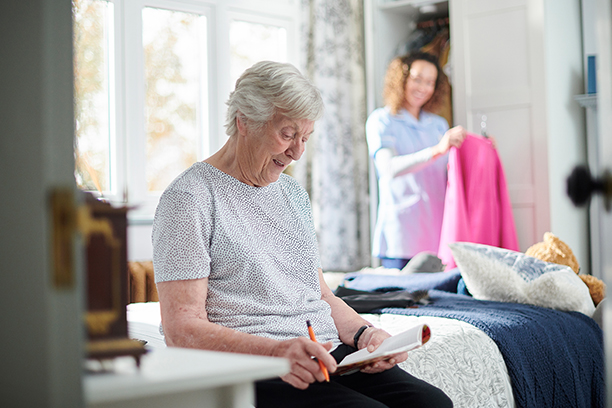 Caregiver Spotlight
Caregiver Spotlight: Darlene Z
It doesn't take long to see that
Visiting Angels of Renton and Greater Seattle
caregiver Darlene Z. is passionate about senior services. With more than 25 years of experience working with seniors throughout the greater Seattle area, Darlene knows that access to appropriate services are the key to healthy aging. We are thankful to work with such a caring and knowledgeable team member, and our clients benefit from their time with Darlene on a daily basis.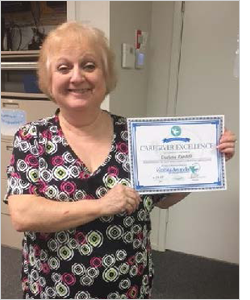 "I encourage my clients to voice their opinions."
As we age, the opportunities to express opinions and make choices are often few and far between. Doctors, family members, friends, and even neighbors tend to choose on behalf of seniors; while this is well-intentioned, it can make seniors feel less empowered and even depressed. Darlene knows the importance of encouraging her clients to have an opinion and a choice. She gives her clients the option to choose many parts of their day, from what to wear and what to eat to more serious topics such as medical concerns.
"I just want them to know that they can ask their doctor the questions that they have," says Darlene. "They have valid concerns and important opinions that sometimes are overlooked by family or physicians." Darlene empowers her clients and gives them positive ways to start a conversation with their family member or physician. Clients feel much better after their questions are answered and Darlene notices the decreased stress.
"I build a relationship with my clients and their families."
Darlene knows the value of relationships and trust, especially in a caregiver-client role. "I love learning the stories of my clients and reminiscing with them," says Darlene. "They have so much to say and I love to listen!" This connection that Darlene makes carries over to the family members of her clients as well. "It's important to communicate and connect with the family," says Darlene. "They want to know how their loved one is doing on a regular basis, and I want to know what I can do to serve my clients better."
Sometimes, her connection with her client and their family can help Darlene become an objective voice to soothe a strained relationship. "Families and the senior can get into a stand-off about certain issues," says Darlene. "It's a hard situation, and over time they can just stop listening to one another." Darlene has found herself being a bridge in many situations, giving an objective opinion, offering a nudge in the direction of services available that could help, or just being a listening ear.
"I feel like I'm a part of the family."
Darlene is a vital part of our Visiting Angels family, as well as the extended family of her clients. "I even love their pets," laughs Darlene when she talks about her client's furry companions. It's easy to see why Darlene can foster such a nurturing relationship with her clients and their families; she is experienced, caring, and is a true advocate for seniors. But more than that, Darlene appreciates the value of connection and empowerment. Her clients are lucky to have her, and so are we!
Do you think you have what it takes to be a
Visiting Angel with our agency
? We would love to hear from you, as we are always looking to build our team with people who have a desire to serve seniors.
Serving the Seattle Area
Visiting Angels
SEATTLE, WA
1455 NW Leary Way #400
Seattle, WA 98107
Phone: 206-258-3680