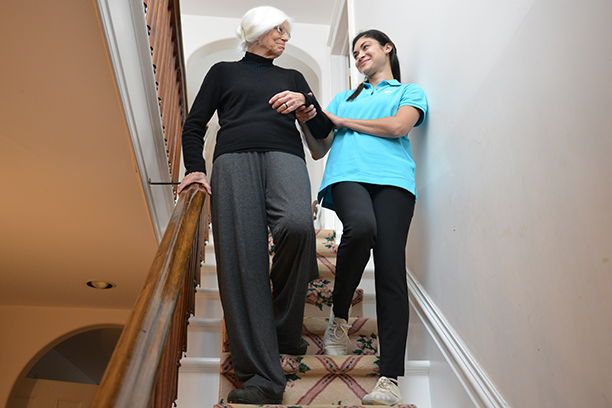 About Visiting Angels
As a former human resources specialist, Arlene Petersen has seen first hand the impact of how an aging population affects the American family. "Some families are in a crisis situation", stated Arlene, "If an employee is worried about their elderly parents at home by themselves, they can't be productive on the job." Because a home situation may prevent an employee from focusing at work Arlene's company, like many others, began to develop programs that helped employees keep their families together.
After Arlene left corporate America behind to pursue a career in real estate she was once again exposed to the troubles of an aging society. Many elderly people are often faced with what seems like their only option – selling their home and moving to an assisted living facility or nursing home. As a realtor, Mrs. Petersen was able to see many of the newer assisted living facility choices for the elderly. While the popularity of assisted living facilities seem to be on the rise they are extremely costly and the move can be traumatizing for an elderly person. She thought there had to be a better way.
Arlene and her husband Bill, a manager of a Good Year store with over 30 years franchise experience, were looking for a business they could call their own--one in which they could make a positive difference in their community. Arlene, being a caregiver for her own grandmother for the last twenty years realized that services such as respite care are sometimes hard to come by. That's when they found Visiting Angels, a national franchise that offers non-medical homecare for seniors. Visiting Angels gives seniors the ability to stay in their own homes, maintain their own schedules and even have a voice in choosing their caregiver. Visiting Angels was everything Bill and Arlene had hoped for in a business and more.
Getting Started
In mid summer 2003, after months of research and training, Bill and Arlene Petersen opened the South Elgin, Illinois, branch of Visiting Angels, Living Assistance Services. Bill's franchise experienced and Arlene's Human Resource experience has been a tremendous asset to them but the biggest benefit of all is that the both of them have a big caring heart!
Our Mission
To be a God centered organization by humbly serving as Christ served, with genuine care, compassion, and understanding, delivered with love and integrity. Always working with a commitment towards equipping and empowering the community through education.
Philosophy
Bill and Arlene Petersen, directors of Visiting Angels, have always held the philosophy that they are in business to provide the best care possible to their clients as well as total respect and appreciation to the care giving staff. We make it a point to check in frequently with both care recipient and caregiver to make sure that things are on the right track. "It's all about relationship building", Bill summarizes. "We want to be in contact with our employees and clients all the time to make sure we manage and take care of the small stuff before misunderstandings turn into big issues later on." Relationship building, truly caring, and open door communication is what keeps Visiting Angels a step apart from most other agencies. That's why Visiting Angels is...
"America's Personal Choice in Homecare."
Serving Elgin and the surrounding NW IL Suburbs
Visiting Angels
SOUTH ELGIN, IL
65 Woodbury St.
South Elgin, IL 60177
Phone: 847-429-0100