Am I Having a Senior Moment, or is this Alzheimer's?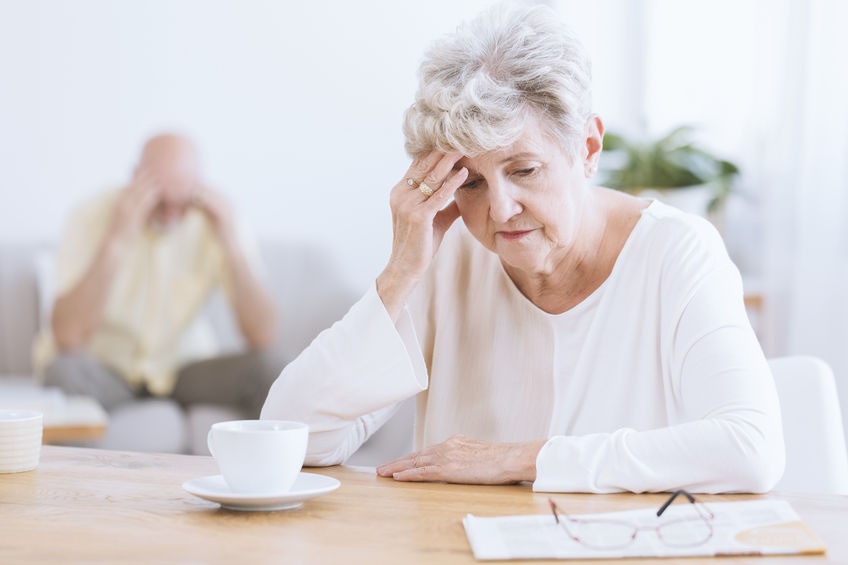 Imagine you are in your late 60s to early 70s. You're retired and are looking forward to spending your retirement years traveling, exploring hobbies that have been pushed aside, and spoiling those grandkids. You've been retired for about a year now, and you've noticed some slight changes in your memory. Alzheimer's runs in your family so it's always on the back of your mind that you may too be diagnosed with dementia. You compare your memory lapses with your spouse, siblings, and other senior friends. Your mind doesn't seem any worse than theirs, but you can't shake the feeling that this is something more than a senior moment. How do you know the difference between a senior moment and Alzheimer's? When is time to seek professional help? If this scenario is all too familiar with you, then here are a few guidelines to help you discern what's next.
Normal Aging
Similar to the way our physical bodies change with time, our brains too experience change. Senior brains take longer to process, store, and retrieve information. Multitasking becomes more difficult for seniors, which explains why you may walk into a room and forget why you came there in the first place. It can be more challenging to remember new faces, places, and names.
Have you ever lost your glasses only to find them on top of your head? Perhaps you've lost your keys and realized minutes later that you're holding them? Do you still have difficulty recalling the names of your new neighbors, even though they've introduced themselves twice now? Have you ever missed an appointment or forgotten a grandchild's birthday?
Each of these examples are normal aging memory lapses. A memory lapse is simply what it sounds like, a lapse in memory or judgement that doesn't typically occur on a regular basis. Anyone can have a memory lapse, from the young adult living next door to the senior living in assisted living down the road. A memory lapse is often triggered by stress but can just happen out of the blue. What's important to note is that given some time, the brain can retrieve the information you were seeking. You eventually find your glasses or your keys. You remember to check the calendar and send a belated birthday card (with extra cash) to your grandchild. You recall that the new neighbor's name starts with the letter "B."
Alzheimer's Disease
Alzheimer's disease is one of many forms of dementia. Dementia is the umbrella term that describes a wide variety of memory decline and other symptoms associated with memory loss. The Alzheimer's Association defines dementia as "a general term for a decline in mental ability severe enough to interfere with daily life." The two key distinctions between normal memory lapse and Alzheimer's is frequency in occurrence and daily life disruption. When memory lapses occur daily and the senior seems to struggle with normal, everyday life, it might be a sign of Alzheimer's or another dementia.
Are you having difficulty managing your calendar? Do you ever get lost in a familiar environment? Did you forget that you wear glasses? Are you ever confused by your adult children—do you forget their names or have difficulty recognizing them? Have you forgotten about routine appointments, such as your weekly standing hair appointment or bi-weekly lunch with a friend?
These examples are not a part of normal aging. They can indicate that there's something more going on that just another "senior moment." They don't necessarily indicate dementia. There are cases where an infection, such as a UTI, can cause momentary dementia. Once the infection is treated, the senior's memory becomes clear again. It's important to seek a professional to diagnose dementia. If you're concerned about your memory, start by talking with your doctor. They can rule out infections that may cause a temporary dementia. They can then refer you to a neurologist who can administer a mini mental exam. If Alzheimer's or dementia runs in the family, it's always a good idea to get a baseline for your memory so that your doctor can monitor changes over time.
When someone is diagnosed with Alzheimer's, the entire family is impacted. Fortunately, an Alzheimer's diagnosis no longer means a move to a nursing home or memory care facility. With Alzheimer's home care services from Visiting Angels South Elgin, you have the option to remain in the comfort of your own home. Our compassionate caregivers receive specialized Alzheimer's and dementia training so that they provide you or your aging loved one quality care. Whether you have received a recent diagnosis of memory impairment or are wanting more assistance in your day-to-day routine, we can provide you with the in-home senior care services that you need. Please contact us today by calling 847-429-0100.