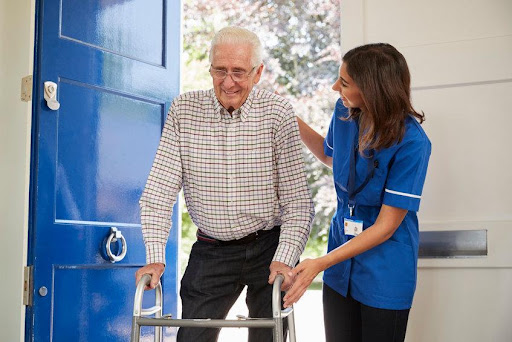 March On: Practical Tips to Help Older Adults Add More Movement to Their Day
Most older adults are aware of the benefits of consistent exercise. Physical activity not only provides an instant mood boost, but it also reduces the risk of developing cardiovascular disease, osteoporosis, type 2 diabetes, some cancers, and dementia. However, engaging in physical activity in older adulthood isn't just a suggestion to healthier aging, it's essential.

The Centers for Disease Control and Prevention shares that one of the most beneficial actions an older adult can take in order to improve their health is to participate in regular physical activity. The CDC recommends three options of weekly activity for older adults to pursue. The bare minimum includes 150 minutes of moderate-intensity aerobic activity a week, two days a week of strength training, and exercises that improve balance. Unfortunately, most older adults do not come close to this goal.

If you're an older adult who wants to add more movement to their day, here are a few practical tips to help get you started. We recommend that you first have a conversation with your doctor before beginning any new exercise routine.
Walk the Store Before You Shop
One easy way to add more movement to your day is to walk the perimeter of the store before you start shopping. Do a lap without a cart and resist the urge to put items in your cart until you've completed that first lap. Drive to the mall and walk the concourse before shopping or grabbing a bite to eat. If you're able, park further away from the store's entrance to add even more movement to your day.
Move With Your Routine
Look for ways to add movement to your daily routine. For example, work on your balance while you brush your teeth by standing on one foot or doing calf raises. Do ten squats before washing dishes or folding laundry. Walk around your house during commercial breaks or while taking on the phone. Walk up and down the stairs between chapters of a book or before you grab a snack.
Start and End Your Day with Movement
Get a head start on your physical activity goals by starting your day by moving your body. You don't necessarily need to head to the gym or take a brisk walk around the block. Learn a few morning yoga poses that you can practice for five minutes, first thing in the morning. End your day the same way. Stretching and deep breathing help the body energize in the morning, as well as calm the body in the evening. Yoga has been proven to help posture, improve sleep, and increase flexibility.
Wear a Fitness Tracker
Purchase a fitness tracker to hold yourself accountable and to motivate you to move more. Many older adults find that they are more likely to move more throughout their day and achieve their fitness goals when they wear a fitness tracker or pedometer. There are a wide variety of options available, from simple to smart. Purchase one that isn't too complicated for you. Commit to wear the tracker for at least five days a week.

Visiting Angels South Elgin is here to help older adults add more movement to their day. We make it easy to get the elderly home care assistance you need. Our services have helped countless older adults continue to live the lifestyle they enjoy. We work with your schedule, providing care and support when you need it. We also use your input to craft a customized care plan that addresses your unique non-medical needs. Whether you want help going for a walk around the block or need help with personal care, we are here for you. To schedule your free consultation, please contact us today by calling 847-429-0100.