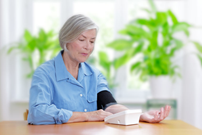 Tips to Help Older Adults Lower Their Blood Pressure
The Centers for Disease Control and Prevention estimates that nearly half of the United States adult population is affected by high blood pressure. It's normal for everyone's blood pressure to fluctuate throughout the day. However, prolonged periods of high blood pressure, or hypertension, can damage the heart and cause significant health problems.
Hypertension is often referred to as the "silent killer" because there are no obvious symptoms of the condition. It most often affects older adults due to their changes in their vascular system caused by advancing age. Only one in four adults with hypertension are appropriately managing their condition.
May is National High Blood Pressure Education Month. It's important that older adults schedule an appointment with their primary care physician to be evaluated for hypertension. If diagnosed with the condition, it's critical that they take measures towards lowering their blood pressure to improve their health. Here are five tips for older adults that can help their blood pressure.
Reduce Your Waistline
Overweight and obese older adults only increase their risk for hypertension. Extra fat increases vascular resistance or the force that opposes the flow of blood through the blood vessels. It also puts more strain on the heart as the heart must work harder to pump blood. Together, the extra activity causes blood pressure to increase. One of the most effective ways to lower blood pressure is to lose excessive weight. Discuss how much weight is appropriate for you to lose with your doctor, as well as a doctor-recommended plan to help you lose the weight.
Consider a Sleep Study
Many older adults have insomnia. Chronic insomnia can affect blood pressure. The less sleep you get, the higher your blood pressure can rise. Another culprit to hypertension is sleep apnea, a serious sleep disorder that can increase blood pressure. If your sleep quality has been lacking, talk with your doctor about scheduling a sleep study. Then, plan to prioritize quality sleep that leaves you feeling refreshed in the morning.
Evaluate Your Diet
Consuming excessive sodium can lead to high blood pressure, which stiffens and narrows the blood vessels. Sodium is often hidden in processed foods and frozen meals that many older adults consume daily. Take time to read the food labels and choose foods that are low in sodium. Resist the urge to add salt to flavor your meals. Instead, flavor bland foods with herbs and other spices. Fill up on fresh fruits and vegetables, whole grains, and lean protein. Reduce your caffeine and alcohol intake. A healthy diet will not only help lower your blood pressure, but it will also help you lose weight.
Stay Active
An active lifestyle is another effective strategy in lowering blood pressure. It can help you lose weight, give you more energy to continue to stay active, and improve your overall health. The key is to staying active is to stay consistent. Include exercise in your daily routine. Engage in hobbies that require some form of movement. Resist the urge to sit in front of the television or stay in bed all day. Talk with your doctor if you haven't exercised in a while to determine what's appropriate for you.
Reduce Stress
Although stress is an inevitable part of life, chronic and even occasional stress affects blood pressure. Stress can contribute to high blood pressure, especially for older adults who cope by overeating or drinking too much alcohol. Evaluate the stressors in your life and consider how you might reduce stress. Avoid driving during rush hour, give yourself more time to get ready so that you're not late, address conflict, or change your expectations. Ask for help where needed and practice gratitude each day. Learn to cope with stress in healthy ways, such as practicing meditation, journaling, or talking with a trusted friend.
If you are an older adult living with hypertension, let Visiting Angels South Elgin become a part of your plan to lower your numbers. We provide a comprehensive approach to senior home care, perfect for older adults who need assistance at home. Our compassionate caregivers can assist with simple lifestyle changes, such as escorting you on a walk to help you stay active or assisting with meal planning and preparation so that you can enjoy healthy, balanced meals. We can also help by reducing the stress of aging in place alone. Many of our clients and their families enjoy peace of mind knowing a dedicated caregiver is on their way to provide compassionate care. To learn more about our senior home care services, please contact us today by calling 847-429-0100.