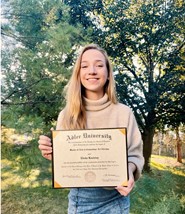 Visiting Angels South Elgin Celebrates Recent Grad
Eliska Kostelny, caregiver, receives MA in Counseling
Visiting Angels South Elgin bids farewell to one of its finest caregivers, as she embarks on a new chapter of her life. Eliska Kostelny leaves her role as a caregiver with Visiting Angels to pursue her dream job with a youth services organization.
Kostelny recently graduated from Adler University in Chicago, where she studied Art Therapy and Professional Counseling. She received her Master of Fine Arts in Counseling and looks forward to applying the skills she learned as a caregiver with the knowledge she obtained through her studies.
According to Kostelny, "Working as a caregiver at Visiting Angels helped prepare me for a career in professional counseling by honing my active listening, communication, and attentiveness skills. I believe that respecting each client's autonomy and unique needs is crucial in this line of work, which is why it is important to be adaptable and work 'with' the client instead of 'for' them."
Visiting Angels South Elgin enthusiastically hires students who are pursuing higher education in the healthcare field. The company embraces the opportunity to launch students successfully in their dream job.
Working as a caregiver is beneficial to college students who may be looking to hone skills while adding experience to their resume. Not only can Visiting Angels provide student caregivers with a flexible schedule that adapts well with their school or internship, but students also have the opportunity to work in an unsupervised work environment, which can make their professional resumes more appealing to future employers.
Arlene Petersen, owner of Visiting Angels South Elgin, adds that "Visiting Angels will happily provide a letter of recommendation or reference for that professional job after [a caregiver's] higher education goals have been met."

When asked what advice she has for anyone interested in becoming a caregiver, Kostelny shares, "…practice self-care, be mindful of each client's individuality, and seek supervision and support often. Caregiving with Visiting Angels is a rewarding experience. The ability to improve the quality of life for older adults in a way that promotes their independence is truly fulfilling."
Visiting Angels South Elgin is a national non-medical home care company with over 18 years of experience caring for seniors. We offer a personalized approach to senior home care that addresses the unique needs and desires of each of our clients. If you are in need of elderly care for yourself or a loved one or are interested in becoming a caregiver with our award-winning team, please contact Visiting Angels South Elgin at 847-429-0100.