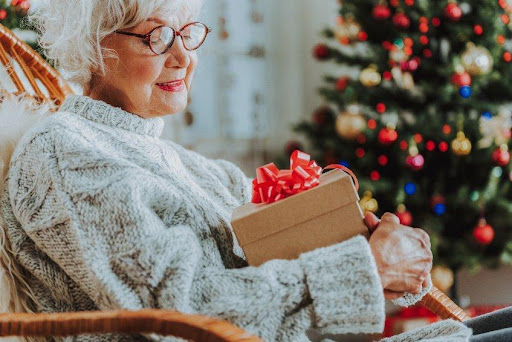 Your Older Adult Holiday Gift Guide: Meaningful and Practical Gifts to Give Your Aging Loved One
As a home care agency that provides non-medical assistance to older adults in Elgin, South Elgin, St. Charles, Geneva, Huntley, Dundee, and surrounding areas, Visiting Angels South Elgin understands the challenges families face as the holidays approach. Fortunately, we're here to help. We've put together a list of meaningful and practical gifts to give your aging loved one that will show them how much you are.
Digital Photo Book
A very meaningful and practical gift to give an older adult is to create a digital phonebook. Many of us have thousands of photos on our smartphones but few have printed their photos to display in an album or on the wall. This holiday season, take time to create a personalized photo book that your aging loved one can proudly display. Use an online website, such as Mixbook or Shutterfly. If you don't have much time, download an app that produces photo books using the photos from your phone.
Custom Gift Baskets
Several local businesses make it easy to create a custom gift basket your elderly family member will love. Elgin Gift Baskets lets you customize a gift basket with gourmet foods, chocolates, fruit, coffee, and more. Edible Arrangements creates fresh fruit arrangements and same-day delivery. BroCrates offers unique gifts for guys of all types. Yorkville's ships to South Elgin and provides a wide range of luxury gift baskets, including kosher gift baskets.
Streaming Subscription Service
A similar gift idea for elderly family members is to gift them a subscription to a streaming service. Before enrolling them, make sure they have the necessary technology to be able to stream. Type out clear instructions in large print and laminate those instructions so they can refer to them as needed. If your aging loved one isn't very tech-savvy, consider setting the account up in your name. This will make it easier for you to help troubleshoot an error. You can also help your loved ones manage their watch list by adding their favorite shows or movies for them, no matter where you live.
Gift of Local Available Resources for Older Adults
Create a local resource guide for your aging loved one so that they know where they can turn to find help. Senior Services Associates provides several volunteers and discounted local transportation programs for seniors in Kane County, McHenry County, and surrounding communities. Food for Greater Elgin serves low-income seniors by providing free groceries to older adults in Elgin, South Elgin, West Dundee, and East Dundee. One-time emergency assistance is available for the elderly with low fixed incomes living in Kane, Kendall, and McHenry Counties through Senior Services Associates, Inc. Several local police and fire departments, such as the Elgin Police Department, sponsor special senior services, including the "Senior Residential Lock Box Program" and a scam alert program. Kane Senior Council is another place to find local resources for your aging loved one.
Practical Gifts for Around the House
A popular go-to gift for older adults are gifts of comfort, such as slippers, cozy socks, or new pajamas. Yet, many families don't think about the safety of their aging loved ones when they purchase such gifts. Choose such gifts wisely, opting to purchase non-slip slippers or cozy socks with grips on the bottom to help prevent falls. Consider your loved one's dexterity before purchasing sweaters or sweatshirts. Look for clothing items that are easy for them to put on and take off. A few other practical gift ideas include a cozy throw blanket, reusable water bottles, adult coloring books, brain game puzzle books, or a new jigsaw puzzle.
If you're looking for another idea, consider the gift of elderly home care provided by Visiting Angels South Elgin. Our services have helped countless older adults to live safely and independently in the comfort of their own homes. Our knowledgeable professionals meet with you to go over your loved one's particular set of health and wellness needs. We use your input to craft a customized plan that addresses all of their unique non-medical needs. We don't believe in using contracted caregivers. Instead, we interview and screen each applicant before selecting them to represent our agency. You can be certain each of our professional caregivers shares our core values of treating each client with dignity and respect. When you select Visiting Angels South Elgin for elderly home care, your loved one gets the help they need and you get peace of mind. To learn more about our senior living plans, please contact us today by calling 847-429-0100.