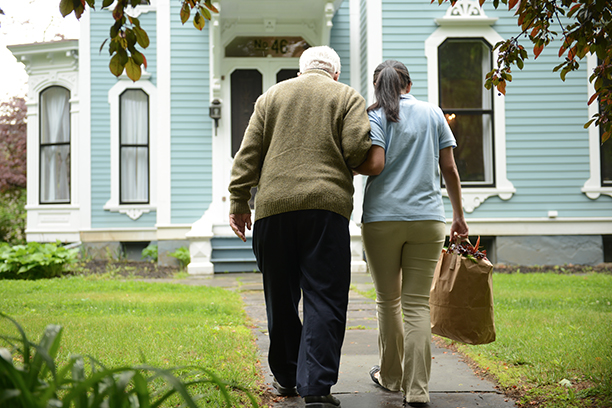 Lifestyle Services
Have you noticed that your aging loved one is struggling with some daily tasks at home that aren't necessarily associated with hygiene or personal care? Perhaps you have noticed that your loved one isn't eating well because they no longer have the desire or endurance to prepare their food, or maybe your loved one has expressed that they would like to attend a community event but don't have a way of getting there. These daily or weekly tasks of lifestyle maintenance are important, but can quickly become a source of frustration. If your loved one is thriving while living at home, but still needs some extra help with maintaining their healthy lifestyle,
Visiting Angels Southlake
is ready to step in and provide support.
Our Lifestyle Services
Even the most active seniors can need some assistance with chore-type of activities around the home or greater community. Our Lifestyle Services clients range in age and ability, and we love working with them to discover how our caregivers can best encourage and support them.
Lifestyle Services can include a friendly caregiver to provide transportation to and from the library for a presentation. These services can also include a fun companion to assist with meal planning, grocery shopping, or meal preparation. Lifestyle Services by Visiting Angels Southlake can even include assistance with scheduling and executing video calls to long distance family or Facebook check-ins with college age grandchildren. Each of our Lifestyle Services are customized to the preferences and needs of the client – we are only limited by your imagination!
We love providing Lifestyle Services to our clients because of the personalized requests. But no matter how different the services may be from one client to the next, our Lifestyle Services are a crucial part of the healthy aging process.
How Our Lifestyle Services Make a Difference
Lifestyle Services in our Southlake area homes are beneficial for our clients and their family members. For our clients, knowing that someone is scheduled to assist them to and from church can provide a sense of community connection and of relief. It can also mean that the client feels safe at church, knowing that the Visiting Angels caregiver is there with a steady hand for mobility support.
For our client families, Lifestyle Services offers peace of mind by giving the confidence that Mom has a refrigerator full of healthy and fresh foods. Seeing Dad on a Skype call, and knowing that he is getting that extra help with his laundry, can make an adult daughter feel comforted even from thousands of miles away.
What tasks could we help your loved one with?
Give us a call
to set up a consultation to develop a personalized plan of services from the team at Visiting Angels.
Serving Southlake and the Surrounding Areas
Visiting Angels
SOUTHLAKE, TX
630 E Southlake Blvd #135
Southlake, TX 76092
Phone: 817-684-1996
Fax: 817-224-2868