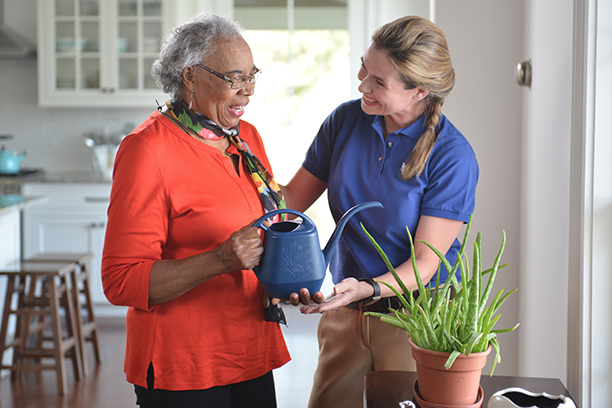 FAQ
Q. What kind of services do you provide?
A.We provide companion care as well as non-medical personal care services tailored to each individual's needs. These services may include shower/bathing assistance, light housekeeping, meal preparations, fall prevention, errands and transportation to/from appointments or social events.
Q. Do you provide services in assisted living facilities?
A. Yes. People sometimes discover that the assistance provided in an assisted living facility is not enough to enable them to remain independent. In these cases, Visiting Angels can provide a caregiver to make this possible.
Q. Are your services limited to Seniors or the Elderly?
A. No. We provide services to any adult looking for non-medical, private care. If you are an adult recuperating from an operation, illness or injury we can assist you in your home.
Q. How does the cost of Visiting Angels compare with assisted living or nursing home care?
A. the average Visiting Angels service runs about 1/3 the cost of an Assisted Living Facility and less than ¼ of what the skilled facility would cost. Naturally you have to take into consideration the level of service required for that individual at any facility. Costs will vary from facility to facility.
Q. How quickly can home care services be provided?
A. Generally service can be provided within a 48 hour period.
Q. How can I pay my bill?
A. Our customary method is by check. For your convenience we also offer an automatic withdrawal from your checking account. We will also accept Visa and Mastercard.
Q. I don't like paper clutter. Can I receive my bills by email?
A. Yes, we can send weekly invoices and statements to your email address.
Q. How do I start home care services with Visiting Angels?
A. Call our toll free 877.299.2020 number to be connected to the office. We will have our staff come to your home to meet you and conduct a free, no obligation assessment. We'll help match you to a caregiver who has the skills, personality and availability to assist you.
Serving the South Shore from Milton to Plymouth, MA
Visiting Angels
SOUTH SHORE, MA
475 School St #15
Marshfield, MA 02050
Phone: 781-834-6355
Fax: 781-834-6305