Ring the New Year with Senior Care from Visiting Angels Temple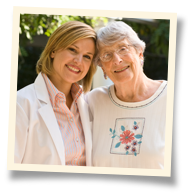 Have concerns about an elderly loved one's comfort and health weighed heavily on your mind this past year? Have you been looking for a way to provide more support for a parent or grandparent living on their own? Start the new year fresh by giving them the gift of senior care from Visiting Angels® Temple. It's the perfect way to ensure that your loved one is never without the help they need, even when you can't be there to provide it yourself. Our care is an ideal way to give them more support, but how can you know that the care provider you choose is the right one?
How to Find the Perfect Senior Care Provider in Temple
Not only can home care be a positive force in your loved one's life, but it can also be one in yours as well. However, the peace of mind is only possible when you have total trust in the people providing their care. Before settling on a Temple-area senior care provider, you want to ensure that you know exactly what you'll be getting in terms of both services, and support.
Some of the things that you may want to think about when talking with a prospective senior care provider in Temple include:
How will your care plan be designed to meet your family's unique needs?
How will they decide which of their caregivers is paired with your loved one?
Will your services be flexible? Can they be adjusted? Or are they fixed?
How will they keep you in the loop of your loved one's care? How often?
How can you reach them with questions and concerns? When?
Senior Care Temple Can Count On
At Visiting Angels Temple, we know that senior care is all about accountability. We bring your family total peace of mind by making sure that you are in the driver's seat when it comes to your loved one's care, and that you have the information you need to make decisions with confidence. We start by offering to provide interested families with an in-home consultation, completely free of charge. In addition to Temple, we also offer free consultations to our neighbors in Barker, Killeen, Harker Heights, and Salado, as well.
To learn more about all our senior care services, call Visiting Angels Temple and book your free, in-home consultation today!