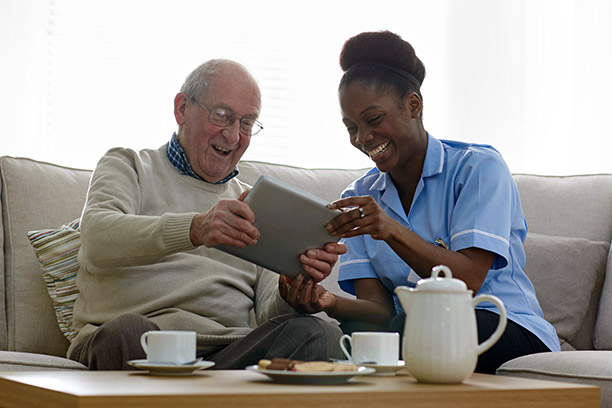 Alzheimer's Care Services
Alzheimer's Care for Temple TX
Millions of Americans and their families are affected by Alzheimer's and other memory disorders every year. Thankfully, Alzheimer's care from Visiting Angels Temple TX can make it easier to cope with a diagnosis of Alzheimer's or another form of dementia. Our Alzheimer's care services help improve the day-to-day lives of seniors suffering from memory disorders, preventing or delaying the need for nursing home care.
Benefits to In-Home Alzheimer's Care
In recent years, more and more Americans than ever before are choosing in-home care for aging loved ones. For many families, this decision stems from the wish to avoid retirement home and nursing home care. This trend is more than understandable. For many seniors, the move from a long-time home into a nursing or retirement facility can be difficult, often traumatizing experience.
This is especially true with Alzheimer's and dementia sufferers, who find stability in familiar routines and surroundings. For these seniors, moving to a new living environment can be deeply upsetting and disorienting, exacerbating the symptoms of their disease.
But with in-home Alzheimer's care from Visiting Angels Temple TX, you can bring high-quality care to your loved one's home. This allows your loved one to continue living in a familiar, stable, and comfortable environment. At home care can help alleviate symptoms stress, disorientation, anxiety, and anger, making it easier for you, your loved one, and your family to cope with Alzheimer's and its effects.
Our Alzheimer's Care Program
Visiting Angels Temple TX is proud to be part of a pioneering initiative between Visiting Angels and the Alzheimer's Foundation of America. Thanks to this initiative, Alzheimer's care from Visiting Angels Temple TX meets standards and protocols laid out by some of our nation's leading Alzheimer's experts.
Our support from the AFA includes specialized training for all Alzheimer's care providers from Visiting Angels Temple TX. By choosing an Alzheimer's care provider – or team of care providers – from Visiting Angels Temple TX, you can ensure your loved one is treated with compassion, patience, and understanding.
At Visiting Angels Temple TX, we also know that Alzheimer's care recipients require flexibility when planning care and a team they can rely on for emergencies and urgent situations. That's why we create a customized care plan for every client, and it's why we keep caregivers available 24/7, including after-hours emergency support.
Alzheimer's care from Visiting Angels Temple TX is available throughout Bell and McLennan Counties, TX, including Temple and nearby towns like Waco. Call today to set up a no-cost care consultation.
Serving Waco, Temple and Communities in Bell & McLennan Counties, TX
Visiting Angels
TEMPLE, TX
2213 Bird Creek Terrace
Temple, TX 76502
Phone: 254-899-9400