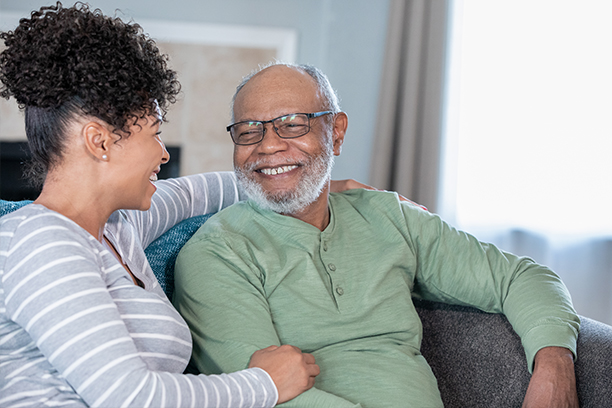 Why Choose At-Home Alzheimer's Care in Temple?
Sometimes little lapses in memory are just a normal part of growing older, but sometimes forgetfulness is much more serious than that. Persistent lapses in memory can jeopardize a senior's safety and their ability to live independently. A diagnosis of Alzheimers or dementia can be both frightening and frustrating for the whole family. You may struggle between wanting to maintain your loved one's quality of life at home, but fear for their safety if left unattended. Rather than compromise, you can turn to the Alzheimer's care experts at Visiting Angels Temple. We provide non-medical, in-home care for seniors suffering memory loss. Our care can mean the difference between the difficulty and disappointment of relocating and staying comfortably in their own familiar space.
Our Alzheimer's Care Services in Temple
At Visiting Angels Temple, we offer Alzheimers care services as diverse as the families we serve. Our services were developed in collaboration with the Alzheimer's Foundation of America, so you can be sure that your loved one is getting expert care with the gentle-touch we're renowned for. We also customize our Alzheimers care plans to suit the unique needs of each and every senior we work with.
Some of the ways we can help seniors with memory loss include:
Providing reminders for medications, appointments and more
Helping around the house to keep things clean and orderly
Assisting with meal preparation to ensure their nutritional requirements are met
Monitoring them at home to reduce the likelihood of accidents
Keeping them company to avoid social withdrawal
Offering much-needed relief for family caregivers
Relief for Temple-Area Families
When it comes to memory loss, it's easy to become overwhelmed with trying to juggle your loved one's changing needs with other work and family commitments you may have. As your loved one's disease progresses, the services they need will change, so we make it a priority to stay flexible. Evolving along with your senior's needs is all a part of what we do at Visiting Angels Temple.
Alzheimer's Care is Close By
If your loved one is living in Temple, Belton, Killeen, Harker Heights or Salado, Alzheimers care is just a phone call away. Our caregivers will give you a shoulder to lean on while restoring dignity and safety to your loved one's life.
For compassionate Alzheimer's care that can make all the difference, call Visiting Angels Temple to schedule your free, in-home assessment today.
Serving Waco, Temple and Communities in Bell & McLennan Counties, TX
Visiting Angels
TEMPLE, TX
2213 Bird Creek Terrace
Temple, TX 76502
Phone: 254-899-9400