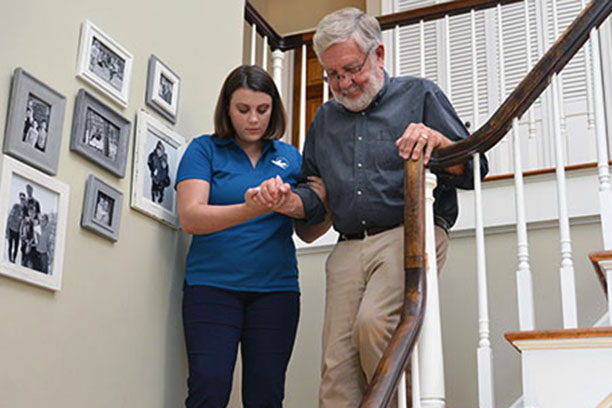 Fall Prevention for Seniors
The Visiting Angels' Safe and Steady® fall prevention program can help reduce your elderly loved one's risk of slips, trips, and falls at home and decrease the chance of serious injuries that could result in hospitalization, loss of independence, permanent disability, or even death.
Visiting Angels' compassionate caregivers are committed to helping seniors remain at home as they age, keeping them where they feel safest, happiest, and most comfortable. Fall prevention is an essential responsibility of Visiting Angels' professional caregivers.
Why Fall Prevention Is Important For Your Senior
According to the U.S. Centers for Disease Control and Prevention, falls are the top cause of injury death for seniors and can impede their ability to remain independent — making fall prevention a vital part of aging in place.
Seniors are more likely to suffer falls than younger adults, with 1 in 3 seniors experiencing a severe fall every year. This is due to risk factors that are more common among older adults, including:
Decreased strength
Poor coordination
Limited mobility
Reduced eyesight
Hearing loss
Stiff or painful joints
Health complications
Cognitive disorders
Taking multiple medications
Seniors are also more likely to suffer a serious injury when falls occur. In many cases, these injuries can have life-altering or life-threatening consequences.
Hip fractures are particularly dangerous. The recovery period for a hip fracture can take up to 12 months, may require transitional care at home, and has a significant risk of life-threatening complications. Most seniors never fully recover from a hip fracture, which can cause them to lose their independence.
The good news is you can reduce your loved one's risk of falling.
How to Reduce the Risk of Falls at Home For Your Senior
More than 75% of dangerous falls occur in or around the home. The Visiting Angels Safe and Steady® Fall Prevention Resource Guide can help you identify risk factors in your loved one's home and take steps to reduce the risks of a fall.
This guide includes key information about the following:
Physical, social, and emotional health impacts of falls on older adults
Environmental risk factors that increase the likelihood of falls at home
Precautions you can take to reduce fall risks at home
Design changes that can reduce your senior's risk of an at-home fall
Lifestyle changes that can further reduce fall risks for your senior
The Safe and Steady® guide includes a list of easy home modifications to reduce your loved one's risk of falling at home. It also contains a comprehensive home safety checklist.
A Commitment To Your Senior's Safety
Visiting Angels' caregivers can reduce your loved one's risk of falls many ways, depending on the type of home care they receive.
With companion care, Visiting Angels helps your loved one maintain a safe and tidy home and lends a helping hand with day-to-day tasks such as light housekeeping, laundry, and errands.
If your senior's health puts them at high risk for falls, Visiting Angels' personal care services can also help with necessary activities such as dressing, bathing, and mobility.
Fall prevention is also an important part of several other Visiting Angels programs, including:
Get Started With Fall Prevention from Visiting Angels
When you contact your local home care office, a Visiting Angels' care coordinator will set up a free home care consultation with you and your senior. Following the consultation, the coordinator will develop a personalized home care plan and recommend a caregiver suited to your loved one's unique needs.
With a Visiting Angels' caregiver by your loved one's side, they will receive compassionate and dedicated care — and you will receive peace of mind.
Find your nearest Visiting Angels' home care agency today, or CONTACT US to learn more!
Free "Safe & Steady

®

Fall Prevention Resource Guide"
Serving Waco, Temple and Communities in Bell & McLennan Counties, TX
Visiting Angels
TEMPLE, TX
2213 Bird Creek Terrace
Temple, TX 76502
Phone: 254-899-9400