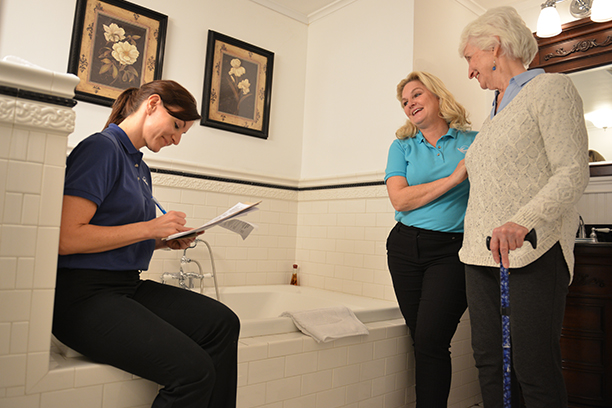 Home Care in Ottawa
Finding high-quality home care for a loved one in Ottawa can provide a significant sense of relief for your whole family, especially when you work with a care agency focused on reducing your stress. At Visiting Angels® Topeka, we offer a comprehensive range of services for seniors who want to age in place in Ottawa or a nearby community. Local families look to us to help them and their loved ones, and we are honored to be able to build relationships that have a positive impact on our fellow community members.
Our reputation for providing exceptional home care is known throughout:
Ottawa
And nearby communities
Each member of our talented caregiving team is committed to promoting the comfort and well-being of local seniors and their family caregivers.
To give families additional peace of mind, we put our caregivers through a rigorous screening process that includes a thorough background check. As a result, we are able to confidently state that our caregivers offer compassionate support in line with our high standards and are ready to assist elderly adults throughout the process of aging.
About Our Home Care Services
The services we provide vary based on the individual needs of seniors and their family members. We will take into account your loved one's home setup, current sources of support, and their daily struggles to find the right set of services for them. Home care may include assistance with tasks such as the following:
Remembering to take medications
Engaging in hobbies and social interaction
Buying groceries and running errands in the Ottawa area
Planning and preparing nutrient-rich meals
Doing basic housework and homemaking
Walking, transference, and general mobility
Providing worry-free time off for family caregivers
How the Home Care Process Works
As we believe every senior deserves to benefit from care that is customized to their unique living situation, we always get to know care recipients and their families before building personalized care plans. Our ultimate aim is to improve the quality of life of elderly adults while benefiting their family caregivers in whatever way we can. We can thus provide home care according to a schedule that suits your family and your loved one's current routine. Care is available on a 24/7 basis, and our care plans can be adjusted as needs change with time.
To provide this level of customization for your loved one, we'll guide you through this step-by-step process for setting up care:
An initial call with our office. Contact us to let us know more about your loved one's situation and to arrange a free care consultation.
A no-cost care consultation. Your care consultation will include an in-depth conversation about your loved one's needs, your concerns, and the logistics of caregiving.
A personalized care plan. Getting to know you and your loved one in person during your initial consultation will allow us to build a care plan that fits their lifestyle and current care requirements.
A custom caregiver match. We will also take the time to select a caregiver in Ottawa who will be able to deliver your loved one's care with compassion while forming a personal bond with them.
Ongoing monitoring and communication. Once we've started the care process, we will remain in close contact with your family to ensure your loved one is benefiting from our care services to the fullest extent possible.
Our Customizable Programs for Seniors in Ottawa
Our full range of customizable programs targets the many needs and difficulties that often hinder elderly adults from aging in place. Take a look at some of our most popular options below.
Understanding How Personal Care Can Help
Personal care gives seniors with difficult age-related conditions or limited mobility the assistance they require to stay safe and comfortable at home. These services often include direct physical support with tasks like showering and getting dressed, as well as help around the house to maintain a tidy living environment, a stocked pantry, and a more comfortable quality of life.
Improving Seniors' Well-Being With Companion Care
Companion care helps older individuals avoid senior isolation by ensuring they remain in regular contact with a joyful and compassionate caregiver. Companion care providers can engage in fun activities with seniors, help them participate in their favorite pastimes, and assist with transportation to social events. Caregivers can also offer a helping hand with basic tasks in the home.
Providing Comprehensive Memory Care Services
Our specialized Alzheimer's care and dementia care programs are dedicated to helping seniors who have been diagnosed with a memory disorder stay in familiar surroundings. Our services include support with some of the most challenging aspects of memory disorders. We also help promote a more comfortable experience of aging in place while reducing the burden that family caregivers feel.
Giving Family Caregivers Much-Needed Respite
Home care isn't only beneficial for elderly adults in Ottawa. It can also be crucial to the well-being of their family caregivers. With the option of respite care, family caregivers can take time off as needed to avoid feeling burned out and exhausted. That way, they can continue helping their loved ones for the long run while making their personal situation and schedule more sustainable and less overwhelming.
Minimizing Hospital Readmissions With Transitional Care
Transitional care can help reduce a senior's risk of ending up back in the hospital soon after they have been discharged. We have a whole program dedicated to transitional care, which we call Ready, Set, Go Home. This program allows seniors to benefit from support through the discharge process, the transition from hospital to home, and in-home recovery.
Comforting Families Through End of Life Care
Our end of life care services are intended to guide families through difficult times. We help seniors who are nearing the end of life process remain comfortable while ensuring their loved ones have more time to spend with them in these precious moments.
Get Started with Home Care in Ottawa Today
We encourage you to call (785) 284-5500 today to get started with a free home care consultation in Ottawa or a neighboring community!
Serving Topeka, Lawrence and the Surrounding Areas
Visiting Angels
TOPEKA, KS
1100 SW Wanamaker Rd #8
Topeka, KS 66604
Phone: 785-284-5500
Fax: 785-915-1445