How Caregiver Services in Tucson Help Seniors Remain Independent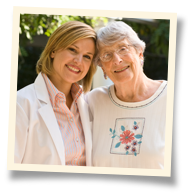 Being able to stay in their own home as they get older is preferred by most seniors across the country. It's also an important part of retaining their independence, even if they can't do all the things they used to. At Visiting Angels® Tucson, we provide customized caregiver services, enabling more seniors in the Tucson area to live the way they choose.
Many families in the Tucson area already provide essential care for an elderly loved one, but that may not always be enough to meet their relative's complex and evolving care needs. So what happens when your loved one needs more one-on-one care to stay at home?
Our Customized Caregiver Services in Tucson
If someone you care about is dealing with age-related issues like cognitive decline and mobility restrictions, they need the comfort of familiar settings and community. By staying in their home, your loved one can stick as closely to their usual routine as possible, even as their abilities start to change.
Some of the most pressing issues for seniors who live on their own include nutrition, hygiene, social isolation, and physical safety. The key to providing effective home care is to identify the areas where your loved one needs the most support, and then make sure they receive it when they need it.
As part of our caregiver services at Visiting Angel Tucson, we'll do an in-depth assessment to learn more about your loved one's condition and what kind of care they may need to remain safe, comfortable, and content. Depending on your loved one's needs, we can provide daily assistance with grooming, meal preparation, and household errands. Our caregivers can also run larger errands, or provide stimulating companionship if your loved one is often on their own.
Get Started with a Free Home Care Assessment With Visiting Angels Tucson
At Visiting Angel Tucson, we have years of experience providing varying levels of care for local seniors and can adapt our services at any time. Our home care services are available day and night, so we can schedule care based on your loved one's needs, rather than ours.
Our caregiver services are available for seniors in Tucson, Avra Valley, Sierra Vista, Green Valley, Vail, Sahuarita, Marana, and the Catalina Foothills. To learn more about our home care services or to schedule a free evaluation for your relative, contact Visiting Angels Tucson today.