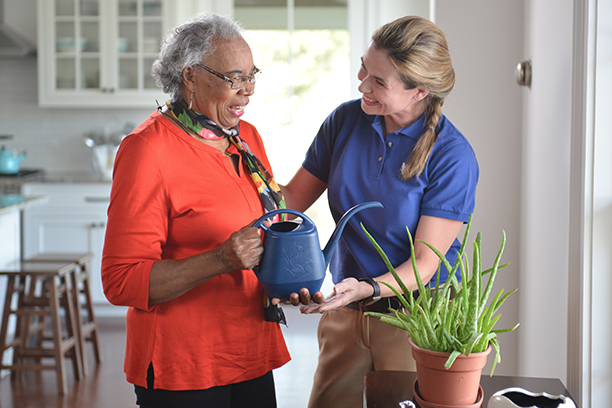 Why Visiting Angels Is a Better Choice for At Home Care in Provo
Our mission is to help your loved one stay where they are happiest. If your loved one is in need of at home care in Provo, you can look to Visiting Angels® Utah County for high-quality support. With our help, your loved one can remain in the comfort of home for longer rather than making a premature move to an assisted living facility. Because we offer personally tailored assistance delivered by warm and respectful care providers, you can maintain total confidence about your loved one's living situation at home.
We would love to give you more information about why families in the Provo area ask us to deliver senior care for their loved ones. Below, we've listed some of the main reasons we're an exceptional source of care for seniors.
Our At Home Care Services Are Tailored to Your Needs
We base the care we provide on the individual needs and personal requests of seniors. Instead of delivering care according to a one-size-fits-all plan, we adapt our services to suit the lives of our care recipients. This means your loved one can continue going about their daily routines while benefiting from professional care at home.
We Work on Your Family's Timetable
Care should make your life more convenient, not more stressful. Our flexible approach to scheduling ensures families' needs are met and family caregivers can have crucial time alone for self-care.
We Give You Greater Peace of Mind
We understand you may currently feel overwhelmed about your loved one's care situation. Our goal is to take this burden off your shoulders and guide you through every care decision that lies ahead.
We Have a Kind and Compassionate Team in Provo
Our caregivers share our passion for working with seniors and are eager to build relationships with local families. Your loved one's care provider will act as both a source of support and a kind companion, meeting their social and emotional needs during the at home care process.
We're Always Here When You Need Us
Whenever you're ready to get started with care, you can simply reach out to our local agency. We provide initial care consultations at no charge for local families.
Contact Visiting Angels Utah County today to book a consultation for at home care in Provo, American Fork, Cedar Hills, Eagle Mountain, Orem, Highland, Lehi, Lindon, Pleasant Grove, Saratoga Springs, Vineyard, or a neighboring community.
Serving Provo, Orem, Lehi, American Fork, and the Surrounding Areas
Visiting Angels
UTAH COUNTY, UT
1675 N. Freedom Blvd Building 2C
Provo, UT 84604
Phone: 801-610-9750
Fax: 801-320-6507
UT001005