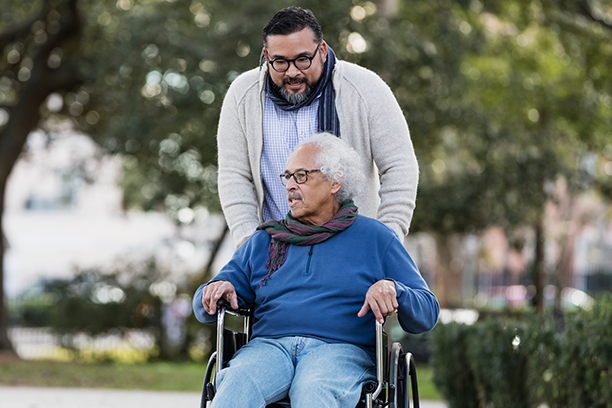 Character Counts with Elder Care Assistance in St. Louis
One of the most important parts of organizing elder care assistance for your loved one in the St. Louis area is finding the right caregiver. At Visiting Angels® Webster Groves, we hand pick caregivers that we would welcome into our own home. By choosing only the best elder care assistance providers, we help you to feel more comfortable welcoming our caregivers into your own home.
Our highly selective screening process for caregivers ensures that our high care standards are upheld as we continue to grow our track record of happily served seniors. This commitment to excellence has made us a trusted partner in elder care assistance to families in the St. Louis, Webster Groves, Kirkwood, Brentwood, Richmond Heights, and the surrounding areas.
Comprehensive Elder Care Assistance for St. Louis Area Seniors
Our team of caregivers in the St. Louis area holds the belief that elder care assistance is about more than providing medication reminders and help carrying the groceries inside. We pride ourselves on delivering service that is not only pragmatic and helpful, but engaging and enjoyable. We choose caregivers based on qualifications and experience, but also the inherent qualities of kindness, compassion, respect, and the ability to engage with others. The presence of these qualities in our caregivers allow us to form a bond with your loved one, as well as providing assistance with day-to-day tasks.
Our caregivers will share memories, join in activities, and engage in lively conversation with your loved one. Many seniors can become lonely once their children leave home. However, with our attentive and enjoyable elder care assistance, you can rest assured that your loved one in the St. Louis area is getting the positive social interaction that they deserve.
The team at Visiting Angels Webster Groves will sit down with you during the pre-care consultation and discuss all aspects of care with you. A large part of that discussion will involve your loved one's preferences and personality traits. Favorite foods, what they like to watch on television and their general personality are all factors that we consider when creating their custom care plan.
One big part of the creation of your loved one's personalized care plan is selecting the caregiver that we feel is the best fit. After the pre-care consultation, our team will take the information you've provided and choose one of our caregivers that we feel meshes most seamlessly with your loved one to ensure a deep bond and strong, lasting connection.
Call us today at Visiting Angels Webster Groves to learn more about our caregivers and the engaging elder care assistance that families in St. Louis, Webster Groves, Kirkwood, Brentwood, Richmond Heights, and the surrounding communities trust.
Serving Central St Louis County and St Louis City
Visiting Angels
WEBSTER GROVES, MO
7961 Big Bend Blvd
Webster Groves, MO 63119
Phone: 314-962-5700
Fax: 314-962-5701