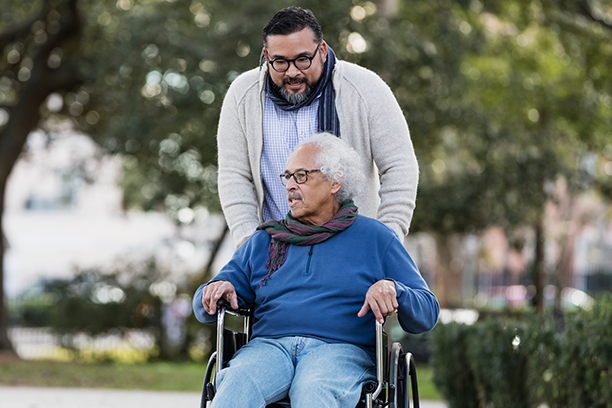 Providing Alzheimer's Care in Mount Orab
Providing Alzheimer's Care – and Peace of Mind – to Families in Mount Orab
"…Thanks for all that you and your group do. It's priceless when you are so far away from home!"
Custom Alzheimer's Care from Visiting Angels Mount Orab
As a family member of someone with Alzheimer's, you have a heavy burden. Ensuring your loved one stays safe and healthy can be both physically and emotionally demanding, particularly as the disease progresses. We can help. When you choose Visiting Angels Mount Orab for Alzheimer's care, your loved one can receive the customized care they need at home, improving their quality of life – and your peace of mind.
Extraordinary Alzheimer's Care – From Extraordinary Caregivers
At Visiting Angels Mount Orab, our reputation starts with an extraordinary team of Alzheimer's caregivers. We only hire the most qualified individuals with a strong record of employment in the senior care industry and a track record of delivering warm and compassionate care.
In addition, every Angel companion is meticulously vetted before being hired, which includes a rigorous background and reference check process. We know it's our people that set us apart. That's why we even encourage you to interview your caregivers before they begin to ensure a great match for your family member.
Improving Your Loved One's Quality of Life
Alzheimer's care from Visiting Angels Mount Orab doesn't just focus on maintaining your loved one's quality of life, but improving it, as well. Our caregivers can provide help and support in a number of ways, from medical reminders and meal preparation, to bathing and grooming assistance, and companionship and conversation. When you turn to Visiting Angels Mount Orab for Alzheimer's care, we will custom design a plan that meets the unique needs of your loved one, on a schedule that works for you and your family.
Some areas we can help with include:
Housekeeping, shopping and meal preparation
Bathing, dressing, eating, exercising and other personal care
Supervision to avoid falls and injuries
Medication reminders
Transportation to doctor's appointments
Companionship and conversation
Respite care for family members caring for an Alzheimer's sufferer
Alzheimer's Care in the Best Place Possible – at Home
One of the primary reasons families in Mount Orab, Wilmington, Washington Court House, and Batavia choose Visiting Angels Mount Orab for Alzheimer's care is to keep their loved ones at home as long as possible. Nursing homes are not only expensive, but studies show that those in them are far more susceptible to depression and anxiety. In contrast, in-home care can ensure your loved one gets the attention and help they need, while staying in the best place possible – at home.
Our Alzheimer's care services are available for families throughout Mount Orab, Batavia, Wilmington, Hillsboro, and Lynchburg. If you have a loved one struggling with Alzheimer's who lives in one of these areas, please give Visiting Angels Mount Orab a call. We can help them stay safe, healthy and happy, all at home.
Serving Communities in Clinton, Fayette, Highland, Brown, Ross, Pike and Southern Pickaway Counties
Visiting Angels
WILMINGTON, OH
36 E Locust St
Wilmington, OH 45177
Phone: 937-240-1992 or 513-445-9995