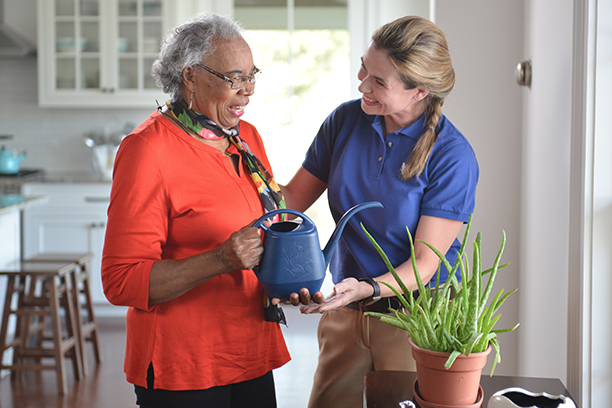 About Visiting Angels
Background
Visiting Angels started in 1998 as a nationwide network of home care agencies. We currently have over 450 locations in over 42 states. Visiting Angels Arlington Heights was established in 2006 and is located in the Northwest Suburbs at South Arlington Heights Road, Arlington Heights, IL 60005. We service the Northwest and some Western Suburbs. We strive to provide quality service that will allow our clients to live safely in their own homes, senior living community or medical facilities. We do this by allowing you to select your caregiver from a group of experienced caregivers, allowing family members to maintain their schedules and providing you or you loved one with personalized superior care.
Licensed, Insured and Bonded
Visiting Angels Arlington Heights is licensed by the Illinois Department of Public Health. This can give you the peace of mind that a trustworthy caregiver will be in your loved one's home. Not only do we meet the states requirements, we also exceed those requirements. We go above and beyond to provide the best protection possible for our clients because we truly care. For instance, we provide new hire and on-going random drug screening as well as a Department of Motor Vehicle check looking back at the employee's driving record for the previous 5 years. We feel that strict pre-employment screening is a necessary step in providing the best protection possible for our clients.
Monitoring is Essential
Visiting Angels Arlington Heights has trained Client Care Manager's which continuously monitor and supervise the home care worker. We conduct unannounced in home visits during the time in which your loved one is receiving service, review all caregiver log notes to ensure the plan of care is being followed, and through telephone conversations with clients and family we make certain that care recipients are receiving the highest quality of care.
Tailoring your care to your needs
No two people are the same therefore; the needs are going to differ from client to client. Whether respite care, in home care, at an assisted living facility, at a medical facility, part- time or full-time care, Visiting Angels' can provide an experienced caregiver that is right for you. We tailor the program of care based on the clients' needs. We have the flexible to change the program as the clients' needs change. We will also work with home health agencies, nursing agencies or hospice nurses that may be assisting your loved ones after a recent hospital stay.
Mission Statement
To provide families with a peace of mind and allow loved ones to live with dignity and safety in the privacy of their own homes.
We take great pride in making sure your non-medical in home care services is an excellent experience!
Visiting Angels Arlington Heights
2340 South Arlington Heights Road
Arlington Heights IL 60005
Phone 847-963-8944
Website: www.visitingangels.com/arlingtonheights
Serving Arlington Heights, Buffalo Grove, Des Plaines, Elk Grove Village, Mt. Prospect and Rolling Meadows, IL
Visiting Angels
ARLINGTON HEIGHTS, IL
415 W Golf Rd #32
Arlington Heights, IL 60005
Phone: 847-963-8944
Fax: 888-233-7561