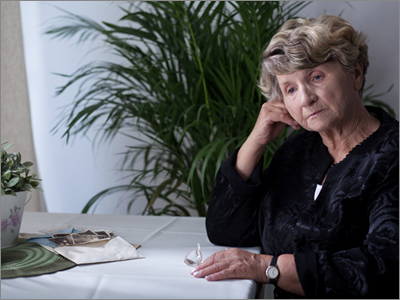 Common Signs a Senior May Be Depressed
Most older adults find themselves lonelier than they were in their youth. Older age often comes with more loss experience, be it a beloved spouse who's passed on or a close friend who's moved away. Other common losses seniors experience includes loss of mobility, independence, driving, and a sense of purpose. Feelings of loneliness and social isolation can set in. If left unchecked, these feelings can lead to depression.
Unfortunately, many older adults don't like to talk about their feelings of loneliness or depression. Elderly depression can also be masked in chronic health problems and the medications used to treat those conditions. Here are a few signs to look for if you are concerned that your aging loved one may be depressed.
Unexpected Changes in Weight
One sign of elderly depression is a sudden, unplanned change in their weight. Depressed older adults may eat more or less than usual, causing a significant weight gain or loss. They may push their food around their plate but not take a bite of it. They may inhale food all day long as a way to fill the void depression leaves. If you find yourself buying smaller or larger-sized clothes for your aging loved
Withdrawal from Activities
Another sign of depression in older adults is a withdrawal from their favorite activities or declining social invitations. Seniors who are depressed are more likely to withdraw from their favorite activities, social or independent. They just don't have the energy to participate in life. When they do accept an invitation, they may withdraw privately or appear anxious to return home. If your aging loved one frequently declines an invitation to family dinner or hasn't picked up their favorite hobby in a long time, it might be a sign that they are depressed.
Disrupted Sleep Patterns
Seniors who are depressed are more likely to experience chronic fatigue and have variable sleep patterns. They may sleep away most of the day, have difficulty waking up in the morning, or suffer from insomnia. Depressed seniors also move and talk more slowly and can be irritable or restless. If you've noticed that your aging loved one is sleeping longer or has shared that they're up all night, which is not normal for them, then it may be another sign that they are depressed.
Moodiness
Lastly, another sign of depression in seniors is a consistent state of emotional turmoil. Depression doesn't necessarily mean that a person cries all the time. Depression can also manifest itself in crankiness, irritability, guilt, or anxiety. Older adults are less likely to engage in conversation about their feelings, so it's important to be on the lookout for changes in their moods. If your aging loved one seems to be in a persistent angry mood or sounds more pessimistic than usual, they could be struggling with depression.
Specific Risk Factors
In addition to paying attention to these signs of depression, family members need to know their loved one's risk factors. Risk factors include being female, being single, widowed, unmarried or divorced, not having a support system, and recently experiencing a stressful life event. Certain health conditions also increase an older adult's risk factor for depression, such as hypertension, diabetes, cancer, dementia, stroke, and chronic pain. Other factors to be mindful of include a family history of depression and the side effects of certain medications.
Depression is not a normal part of aging. It can be treated by medication and/or therapy prescribed by a doctor. It can even be prevented through regular exercise, eating a healthy diet, and consistent participation in social and independent activities.
Visiting Angels Beaver Dam is here to help older adults struggling with feelings of loneliness and depression. One of the many services we offer is Elderly Companion Care. Our companion care services include light housekeeping, shopping, meal preparation, help with running errands, and, most importantly, companionship. We all need companionship, and from time to time, we all need a helping hand. To learn more about how we can help your aging loved one ward off depression and loneliness, please get in touch with us today by calling 920-821-1111.