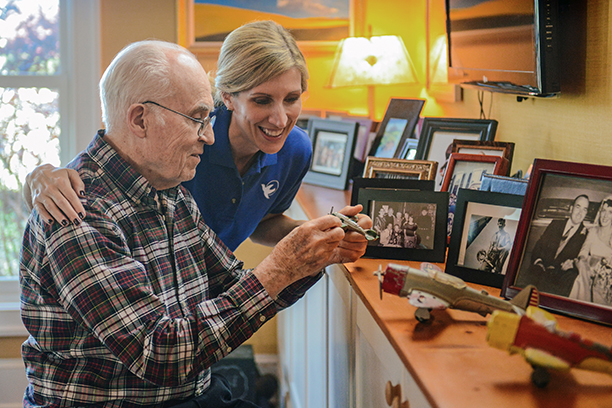 Why Visiting Angels
Senior Living Assistance from Visiting Angels Beaver Dam WI
Visiting Angels is a trusted agency that provides senior living assistance to families in Beaver Dam WI and the surrounding communities. Visiting Angels has been providing experienced care to seniors for close to 20 years. Our knowledgeable staff is well versed on the needs of seniors and the most beneficial ways to care for them.
Customized Senior Living Care to Suit Your Needs
Each plan from Visiting Angels Beaver Dam WI is custom crafted by our senior living staff. We get to know you, in the comfort of your own home, and get a feel for the types of assistance you need. If your needs grow and change in the future, your plan can change as well. Customized senior living care from Visiting Angels Beaver Dam WI means that you get the services you need and none that you don't.
Flexible Scheduling Gives You What You Want
What could be better than creating your own home care plan from scratch? The ability to schedule services when it works best for you, around your familiar routines. Visiting Angels Beaver Dam WI lets you do just that. Our elder care professionals are available to lend a hand around the clock, 24/7. Whether you need a companion during the day, or someone to watch out for you at night, Visiting Angels Beaver Dam WI has you covered.
Continuous Monitoring of Our Senior Living Care is Standard Practice
Some senior living agencies become hard to reach once they have earned your business. Visiting Angels Beaver Dam WI does exactly the opposite. Not only do we provide monitoring of your care through phone calls and drop-in visits, we also make ourselves available to you. You are welcome to contact our office 24 hours a day with questions and we will respond within 15 minutes, even overnight. Peace of mind comes standard with every senior living plan from Visiting Angels Beaver Dam WI.
Compliance and Safety are Managed by Visiting Angels Beaver Dam WI
Navigating the world of health care and changing regulations is not something that the average person wants to deal with. When you have senior living assistance from Visiting Angels Beaver Dam WI, we handle all of the payroll taxes, liability insurance, and other employment requirements for you.
Call Visiting Angels Beaver Dam WI to learn more about our senior living plans.
Serving Dodge & Columbia Counties
Visiting Angels
BEAVER DAM, WI
140 Corporate Dr #2
Beaver Dam, WI 53916
Phone: 920-821-1111
Fax: 920-328-0324